BlackBerry details the Priv's main features on video, launches first ad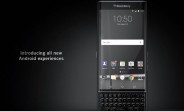 BlackBerry has been busy producing videos about its latest smartphone, the Priv. First off, we're treated to one that's all about the features that BlackBerry thinks will be the key differentiators for the Priv in the very crowded smartphone market.
The BlackBerry Hub is mentioned, for example, which gives all your communications one simple inbox. The company also bets on the easily accessible pop-up widgets, then goes on to talk about some specs such as the 5.4-inch QHD dual curved screen, the touch-enabled physical keyboard, the "best in class" virtual keyboard, the "colossal" 3,410 mAh battery, and the 18 MP rear camera with Schneider-Kreuznach certification, OIS, and dual-LED flash.
The camera can record 4K video at 30fps, we're told, and the DTEK feature alerts you when your privacy is at risk from the apps you've installed.
BlackBerry has also outed what seems to be the first TV commercial for the Priv, which you can see above. It's short, it's black and white, and it focuses on privacy - namely, how the BlackBerry Priv can protect yours. Oh, and the word "privilege" is in there too.
D
BrillianT! Wat an awesome phone! great work blackberry~ a real innovative blend of stunning design and technology... And welcome to the Android.. thanks, u take a move to adapt with changing technology by not repeating the same mistake that Nokia ...
T
And anything Apple sells isn't ?.
?
Very good smartphone, especially for business users.