BlackBerry UI
This BlackBerry comes with Android 8.1 out of the box. You wouldn't notice anything unique about this phone's UI on its surface: it all looks pretty vanilla. However, what makes the BlackBerry experience unique is how many shortcuts are scattered and hidden throughout the UI, this doesn't even include the possible shortcuts via the physical keyboard or the convenience key. More on that soon.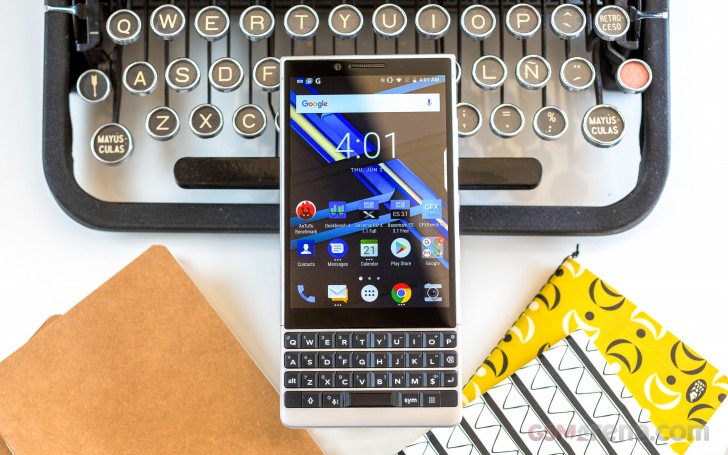 Here are the home screens, the icons are arranged in a 5x5 grid plus the four icons on the dock. You'll notice that some of these icons have three white dots underneath. This is BlackBerry's Pop-up Widget feature. Swipe up on any app that has a widget and you can take a peek at the app's widget so they don't have to take up space in the home screens. We appreciate that this keeps the home screens looking neat and tidy.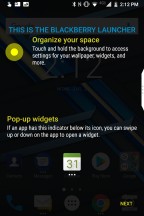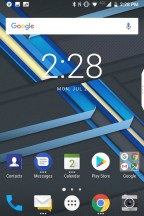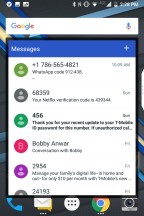 BlackBerry Launcher: Intro • Home screen • Pop-up widget
In the app drawer, there are three tabs: Apps, Widgets, and Shortcuts. You can look through the latter two tabs to add either widgets or shortcuts to your home screen. The Shortcuts tab has so many specific shortcuts to choose from. You can do anything from adding a calendar event or a contact, to dialing your boss, or even composing a new tweet within Twitter. Some third-party apps that support these kinds of shortcuts will appear in this tab.
The launcher supports third party icon packs to give the KEY2 an overall different look.
If you want to switch the overall appearance of the KEY2, you can switch to dark mode. While this doesn't change the settings menu's color scheme, it will change most of the launcher to a dark or black background with white text.
BlackBerry uses a different layout for multitasking called "Masonry". This is the default multitasking view but it can be changed to the more well-known "Rolodex" style.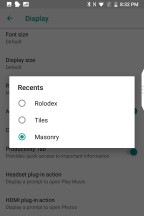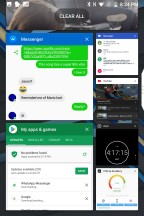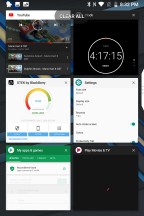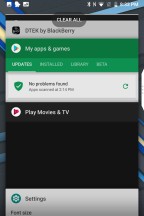 Recents • Masonry • Tiles • Rolodex
BlackBerry Apps
Now that we've got the UI basics, let's take a look at some of the apps that BlackBerry includes.
DTEK is BlackBerry's security suite that gives you a more comprehensive look at what apps are using which permissions. You can hit the scan button to check out DTEK's recommendations for keeping your phone secure.
In the Events tab, you can see a log of events that triggered a sensitive permission. For example, when WhatsApp accesses your phone permissions, it will show as an event here.
The Applications tab lets you see all your apps and exactly which permissions they have access to. Here, you can allow or revoke apps' access to certain permissions. We wish every Android smartphone had this level of comprehensiveness of permissions.
Our favorite feature is the ability to get notifications whenever apps request sensitive data - this can be accessed through the "Events" tab in DTEK. For instance, we set DTEK to notify us whenever location was accessed.
We didn't realize how often these apps are actually pinging our location so we were surprised to say the least. More smartphones should offer this level of comprehensiveness in something as important as security. If Yelp is constantly pinging for your location, you'd want to know about it, right?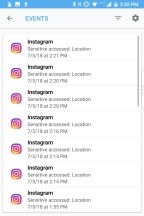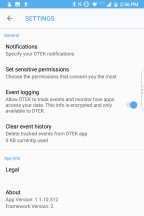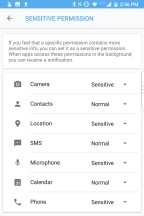 DTEK Events • Event notification settings
Since we can't actually take screenshots in the Locker, we'll just describe it to you. The locker is where you can store sensitive files, apps, photos, and access the Firefox Focus browser. You can access the Locker via password or fingerprint, and the camera app can take photos that are stored directly into the Locker by using the fingerprint scanner as the shutter button. Now you understand why screenshots aren't allowed in the Locker.
There are two note-taking apps: Notable and Notes. Notable lets you doodle and write on screenshots or images to share. Meanwhile, the Notes app supports sync with Microsoft Exchange or Novel WiseGroup accounts.
BlackBerry Hub is an app that keeps track of all your notifications, no matter which app they came from. This is a really powerful tool that lets you see past notifications, even after you've swiped them away. You can even tap an old notification and be taken to the same notification within the respective app as if you tapped on the notification the day you got it.
Hub also lets you snooze notifications so you can be reminded of them at a later time or even in a future location. There are endless customizations and options within BlackBerry Hub - this is the spirit of the legacy BlackBerry.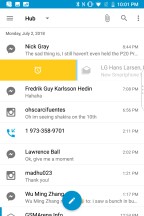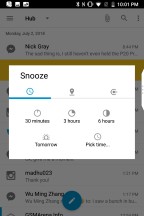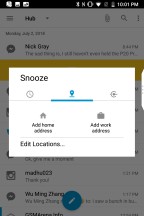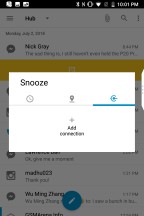 Snoozing an entry in BlackBerry Hub
The Hub is also BlackBerry's default email client. Rich Text formatting is the standard with options to bold, italicize, and underline, as well as change the size and color of the text.
Redactor is a small but interesting feature. If you'd like to send a colleague a screenshot, you can use the redactor to lay black bars over sensitive information such as a client's private information.
Privacy Shade has a different function, it lets you view only a portion of the screen to keep onlookers from eavesdropping on sensitive material.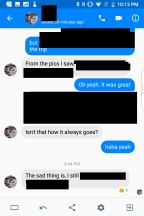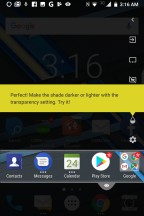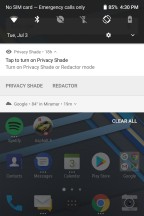 Redactor • Privacy shade • Access via notification shade
Keyboard, Speed and Convenience Keys
The keyboard on this thing feels amazing. There's something very satisfying about touching actual keys that offer more than haptic feedback. After all, haptic feedback is there to emulate the tactile feedback of physical keyboard. BlackBerry used the Bold 9000 as a reference when building and designing this keyboard. The keys have much smoother motion all the way through the action of the keys.
This keyboard is also more accurate and comfortable than the KEYOne's was. You can really feel the clickiness of keys, even if you press the key very slowly. However, having a physical keyboard does have one downside: it's harder to type with just one hand.
It's not to say this is impossible, the BlackBerry Keyboard has gesture-based shortcuts for using the predicted word without having to type the rest of it. Sure there's a learning curve, but this seems like the best way to master the KEY2 with one hand.
One handed typing on this keyboard is totally possible, but there's definitely a learning curve. Speaking of which, if you are switching from a non-BlackBerry, you'll definitely need a few days before you can swiftly pound out emails.
There are 52 possible keyboard shortcuts on the KEY2. Each letter key on the keyboard can be assigned two different shortcuts: as a long or short press. New to the KEY2 is the "Speed Key". This key allows you to open any of your keyboard shortcuts without having to go home. This is also useful for those who prefer a third-party launcher, since changing the default launcher breaks shortcuts.
If you thought 52 shortcuts is enough, the KEY2 has BlackBerry's convenience key right on the side of the phone has contextual shortcuts. You can set up to three shortcuts for every profile: meeting, home, and car. You can program a Home Wi-Fi or in-car Bluetooth device so the phone will know when to activate the respective profile.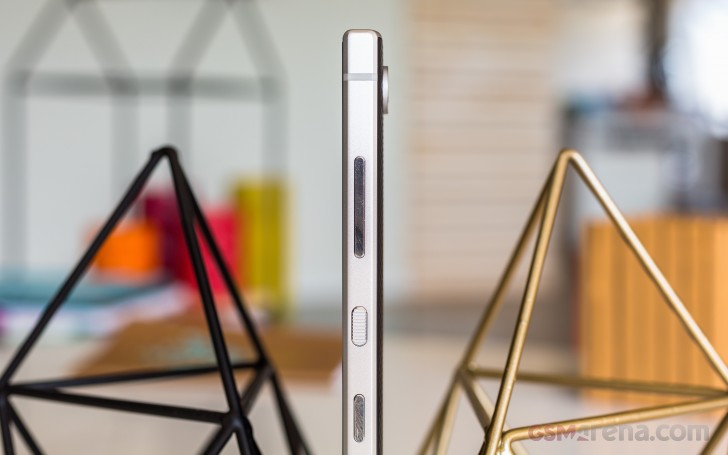 For example, if we're in the car profile, we can press the convenience key to access our most used shortcuts: Spotify Music and Google Maps. At home, we can use it to access Twitter or Instagram, and the meeting profile lets us quickly get to the Voice recorder, Google Keep, and the Camera.
Performance
The KEYOne's performance was less than desirable with the Snapdragon 625. This time around, BlackBerry still used a 600 series Qualcomm chip, but it is a Snapdragon 660 with superior performance. BlackBerry also doubled the amount of RAM to 6GB.
This chip has an octa-core processor housing Qualcomm's custom Kryo 260 cores - four of those cores are ticking at 2.2GHz, and the other four are at 1.8GHz. For graphics, there's an Adreno 512 GPU.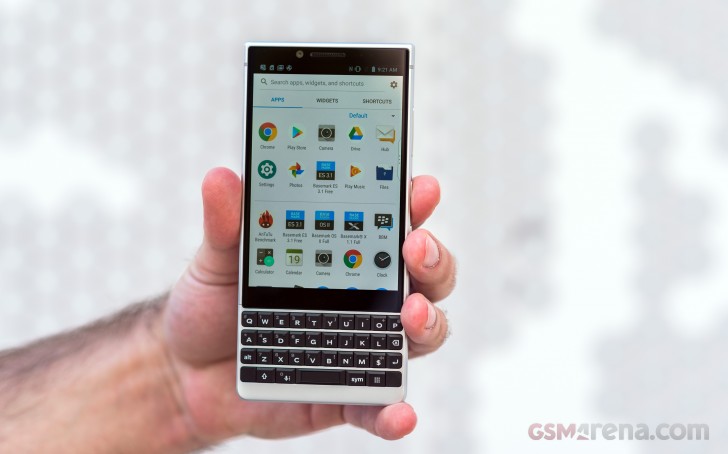 First off, we don't think anyone would enjoy playing games on this phone. Casual games that can be played in landscape are pretty much the only ones that you can play comfortably with this form factor. We do have to say we're disappointed that Brick Breaker (a classic BlackBerry game) is not a pre-loaded game. This is likely due to the fact there is no track ball/pad.
Starting with GeekBench, the KEY2 performs like the other Snapdragon 660 devices of the pack. The flagship devices are still quite ahead, but comparing these results to the BlackBerry Motion (which has identical performance to the KEYOne) we can see that the KEY2's performance is about a third better in the multi-core test and almost twice as good in the single-core.
GeekBench 4.1 (multi-core)
Higher is better
Apple iPhone 8
10214
OnePlus 6
9011
HTC U12+
9001
Samsung Galaxy S9+ (SD 835)
8349
Huawei Mate 10
6625
Oppo R11s
5907
BlackBerry KEY2
5830
Oppo R15 Pro
5809
Oppo R15
5806
Meizu 15
5770
Oppo Realme 1
5741
The KEY2's single-core performance was not far off from the Mate 10 and View 10's Kirin 970 CPU. Meanwhile, we can see the power behind a single core of the Apple A11 Bionic and Exynos 8895 chips.
GeekBench 4.1 (single-core)
Higher is better
Apple iPhone 8
4234
HTC U12+
2456
OnePlus 6
2450
Samsung Galaxy S9+ (SD 835)
2199
Huawei Mate 10
1882
BlackBerry KEY2
1628
Oppo R11s
1614
Oppo R15 Pro
1612
Meizu 15
1551
Oppo R15
1520
Oppo Realme 1
1511
Next up is Antutu7. This test incorporates the speed and smoothness of the UI and takes RAM and memory speed into account as well. The KEY2 did just as the other Snapdragon 660 devices did with the Oppo R15 Pro coming just a bit farther ahead. Here you can really see how the Snapdragon 625 crippled the performance of the BlackBerry Motion and KEYOne.
AnTuTu 7
Higher is better
OnePlus 6
264200
Samsung Galaxy S9+ (SD 835)
264044
HTC U12+
263696
Huawei Mate 10
214037
Oppo R15 Pro
146526
BlackBerry KEY2
140984
Oppo R15
140161
Oppo Realme 1
138524
Meizu 15
128680
In graphics performance, the off-screen scores are all rendered at the same resolution of 1080p while the on-screen scores render the test using the display's native resolution. This way we can test independently of factors like screen size and resolution for one score while the other takes all performance factors into consideration.
There is quite a large gap in graphics performance between the Mate 10 and View 10's Kirin 970 and the Snapdragon 845 devices at the top of the chart against the Snapdragon 660 devices. The Snapdragon 660's Adreno 512 GPU isn't exactly a graphics power house.
GFX 3.1 Manhattan (1080p offscreen)
Higher is better
Samsung Galaxy S9+ (SD 835)
61
HTC U12+
60
OnePlus 6
58
Huawei Mate 10
38
BlackBerry KEY2
15
Oppo R15 Pro
15
Oppo R11s
15
Meizu 15
15
Oppo Realme 1
12
BlackBerry KEYOne
6.4
BlackBerry Motion
6.3
GFX 3.1 Manhattan (onscreen)
Higher is better
OnePlus 6
55
Samsung Galaxy S9+ (SD 835)
34
HTC U12+
33
Huawei Mate 10
23
BlackBerry KEY2
17
Meizu 15
16
Oppo R11s
15
Oppo R15 Pro
12
Oppo Realme 1
12
BlackBerry KEYOne
7.4
BlackBerry Motion
6.2
We'd not imagine that anyone is able to play intense games comfortably on this device at all. The KEY2 can surely handle the occasional candy crush or Pokemon Go session without skipping a beat. At the end of the day, this device is oriented more towards communications and important tasks and an all-powerful GPU is not a requirement of this.
That said, the KEY2's performance is a welcome improvement over what we experienced on the BlackBerry KEYOne - which slowed down pretty badly soon after setting it up. The KEY2's 6GB of RAM is also a great addition. This is double the amount of RAM coming from the KEYOne's base tier of 3GB of RAM.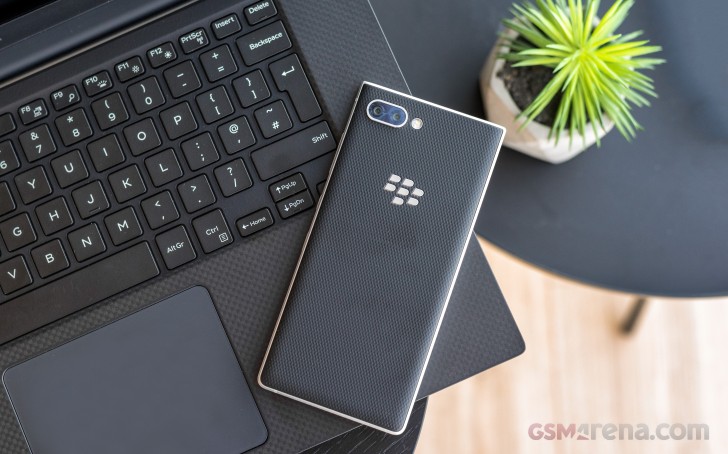 All in all, the KEY2 is a pleasure to use and is as responsive and snappy as the KEYOne should have been. We didn't experience slowing down or hiccups but we do see the occasional dropped frame in window transitions or when loading apps.
Honestly, any CPU more powerful than this one on a device like the KEY2 might arguably be more than necessary. However, with the $650 entry price, we think even a now outdated Snapdragon 835 or (maybe, probably not) even an under-clocked Snapdragon 821 could have offered more justification for the price point.