If you are a BlackBerry fan in the US, and are planning to purchase a regular Keyone (silver model), you'll be glad to know that the company is offering a $50 discount on the device. This means you'll be able to grab a unit for under $500.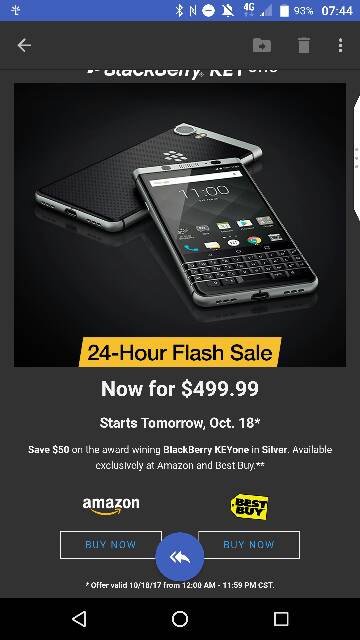 Those interested will have to act fast though, as the offer is only valid for a day - it starts at 12:00AM on October 18 and ends at 11:59PM the same day. You have the option to make the purchase from either Amazon or Best Buy.
D
Hello You can't forget the security features +the physical keyboard.This two features cost,and no other smartphone can offer you,this things,with that price.
D
Hello With the snapdragon 625,the phone has efficency.I have in,on the BB Keyone,and is very good.With that proccessor ,the smartphone is not overpriced.Overpriced are the other smartphone ,with the latest proccessor.
A
If they wanted efficiency asking that price, they should have offered a 660 to not be considered overpriced, plus OIS in the camera. It's a good camera but you can visualize the lack of it in the reviews. This one at least has a physical keyboard as ...