Final words
BlackBerry and TCL have a solid device on their hands: TCL-made hardware which follows BlackBerry's legacy of physical keyboards with a security-oriented software experience. TCL and BlackBerry both received high praises after the phone was previewed to the press back during CES. Whether or not that praise will directly translate into sales is always ultimately up to the consumer.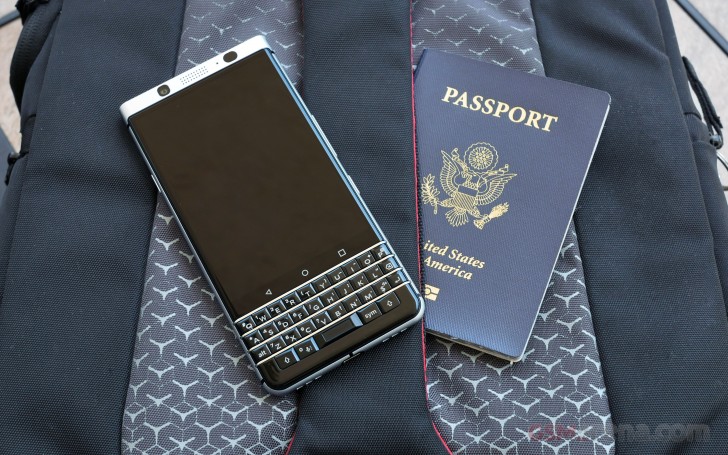 Surely, the KEYone offers a new form factor in an industry where it's getting harder to recognize products by different manufactures. It's the BlackBerry form factor from the late-2000s combined with one of today's operating systems optimized for a touch screen. For those who fear that the smartphone industry is becoming stale, the BlackBerry KEYone could be your saving grace.
If you are looking for a smartphone that will multitask like a beast and play high frame-rate games, then this is not the device for you. This phone is more for the person who barely has time to waste on a smartphone or carries a separate phone for work. It's for the person who needs to get stuff done and is always on the move, like event planners, real estate agents, or anyone else working out on the field.
BlackBerry KEYone key test findings
Sturdy, metal and plastic build with soft-touch backing and Gorilla Glass 4 panel
The 4.5-inch screen carries an unconventional 3:2 aspect ratio with a cropped 1080p LCD panel, which isn't optimized for viewing video. Colors are generally accurate and pleasing to the eye. Screen is bright enough for great sunlight legibility.
Fingerprint scanner, which is generally quick and reliable, is embedded into the spacebar of the full, always-out, physical keyboard.
With an 81h Endurance rating, the KEYone carries the true spirit of BlackBerry's long lasting devices. While talk, web, and video times are solid, standby power consumption is where the KEYone really shines.
Near-stock Android 7.1.1 Nougat runs quite well. BlackBerry includes its suite of apps and services aimed at productivity.
Physical keyboard has its quirks, but offers extensive customization and is really satisfying to use. Expect a short-term learning curve.
The Snapdragon 625 CPU won't win this guy any benchmark tests. Performance is otherwise respectable and in-line with other devices with the same chipset.
Loudspeaker isn't very loud and doesn't produce clean sounds when playing music. To sum it up: it's loud enough unless you work in loud environments.
Great audio quality with an extenal amplifier; loud output via the jack but moderate stereo quality.
Still images from the main camera were above expectations. 'HDR Auto' mode kicks the dynamic range performance up a notch. OIS could have really helped with stabilizing still images taken with HDR mode and 4K video.
Although you can use HDR Auto mode with the selfie camera, it doesn't help selfies much. Resulting images look fuzzy and are sometimes exposed incorrectly.
Good 4K video quality and extensive video recording options. Details are okay, but dynamic range is not the KEYone's forte. OIS could have really helped the KEYone.
Blackberry is leveraging its security-focused software experience and productivity-focused apps and services to its advantage by making these its sole focus as a company while TCL focused on making BlackBerry's vision a physical reality - complete with the iconic QWERTY keyboard. Speaking of which, anyone who does decide to get this phone should know there's a learning curve for the keyboard - especially if it's been several years since you've been typing on glass.
We'll compare the KEYone to a few devices, though keep in mind that none of these feature a physical keyboard. This is where the KEYone has the others beat, depending on your preference.
With Lenovo close to announcing its new Moto Z devices for 2017, we don't think we can rule out the Moto Z Play. Offering level performance with the same Snapdragon 625 chipset, the Z Play has a larger screen for multitasking and a large battery to boot. Its value-added Moto features also offer a great experience over stock Android. Who knows? Maybe someone will release a Moto Mod with a full, physical keyboard.
OnePlus is a great example of high-end specs embodied in a device with a price cheaper than the KEYone, one that will really give you a run for your money: a great camera, great hardware, and good battery life. Given that the 3T is now discontinued, you'll have to find one second-hand or wait for the OnePlus 5.
If you want a phone that performs comparably at a much cheaper cost, you may find the Zenfone 3 appealing. While it comes with the same chipset, it comes at a much cheaper price of around $250 and offers a comparable camera experience, similar battery life, all with the same Snapdragon 625 chip. The disadvantage would be the lack of work-focused tools as it's aimed "for the masses". This could be remedied with a quick trip to the Play Store.
The Galaxy S7 edge is still a great smartphone. And if you still long for a (somewhat) similar typing experience, you can always grab one of Samsung's keyboard covers for the S7e. It'll probably offer a cumbersome experience, but you're getting a much better camera and faster internals for a smartphone more optimized for viewing media.
While we really enjoyed using the KEYone, we don't think it will have many loyal Apple fans switching to Android to use it, after all, many BlackBerry users jumped ship to Apple around the time of the iPhone 4, during which it was finally spreading to more US carriers. A select number of more seasoned Android users, however, might lean toward the BlackBerry KEYone. Those using legacy BlackBerry 10 devices should consider making the switch to Android.
Is the $549 price tag for the KEYone justified on paper? Probably not. After all, it's using a mid-range Qualcomm Snapdragon 625 processor. What you are investing in isn't the thinnest phone or the fastest processing, rather it's an investment in the work-centric experience and the satisfying use of the keyboard.
The need for a faster CPU just isn't part of BlackBerry's vision for the KEYone. If it was, maybe BlackBerry should have opted for something much more powerful than the Priv's Snapdragon 808. Then again, the KEYone may not be the direct successor to the BlackBerry Priv. Perhaps the Priv will get its own slide-up successor, one with a high-end CPU. If BlackBerry can make deals with its carrier partners like it did back then, perhaps it can strike a chord with the mainstream once again.