The BlackBerry Media event in London just concluded and this is what we've got so far: the new BlackBerry Bold (previously known as Bold Touch) 9900/9930 (UMTS/CDMA), the BlackBerry Torch 9810 and Torch 9860/9850 (UMTS/CDMA), which was previously rumored by the names of BB Touch and Monza. All the devices are powered by single-core 1.2GHz processors with 768MB RAM and all have NFC support.
The BlackBerry Bold (also known as Bold Touch) is the thinnest BlackBerry device so far at 10.5mm. It runs the BlackBerry OS 7, and utilizes a 1.2GHz CPU, 8 gigs of expandable memory and a 2.8" VGA (640x480) 287 dpi (close to the Retina's 326 dots per inch) capacitive touchscreen. It has a 5 MP autofocus camera with 720p video recording. In terms of looks, it takes after the previous line of Bold devices with no significant changes to the exterior. It's made out of high-quality brushed stainless steel.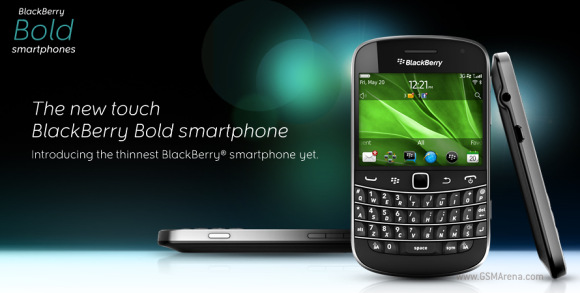 The BlackBerry Torch 9810 is a touchscreen device with a slide-down QWERTY keyboard. It has 253 dpi screen, 1.2GHz processor, NFC chip and will be powered by the BlackBerry OS 7. The Torch 9860 will be 11.5mm thick with a 15:9 aspect ratio screen, which is 3.69" with a WSVGA (800x480) resolution with 253 dpi. It also has 5 MP camera with autofocus and 720p video recording. Prior to this official announcement, the Torch 9860 was know by its codename, Monza.
Next up, we have some info about the upcoming BlackBerry OS 7 - it will have instantly responsive, fluid animations and a new interface engine. The OS 7 browser is supposed to have the best in class HTML 5 and JavaScript performance. Finally, it will be 40% faster than the one on the old OS 6 - that's a huge improvement.
The BlackBerry Messenger 6 ships on the new OS by default. It's quite more social and focuses on easier sharing.
The 9860 and 9900 should officially launch September in the US, UK, most of Europe and presumably Canada, while the 9810 will launch this month by AT&T.
This just in: the Bold 9900 will be offered by T-Mobile USA for as low as $250 (with a $50 mail-in rebate). The device will be available from 31 August for customers (and 17 August for bussiness customers).
P
I wonder will the BB Bold touch be avaliable by AT&T?
H
IMO, RIM has made a huge stride by releasing these new latest models and they are very impressive to me and I will be getting 99xx as soon as it comes out. I have seen and did not try other touch phones but I do believe that I am not ready to jump...
X
You know.. I used to think that way too. But when I finally got one of them phones with a forward-facing camera for video calling, I must've used the feature maybe once or twice. You know, the novelty of the thing. Ever since then, it's never daw...
ADVERTISEMENTS