What was rumored as BlackBerry OS 6.1 was officially announced as OS 7 because RIM felt the improvements were too big for a mere 0.1 update. Bad news for old devices though – they won't be getting in on the action.
BlackBerry OS 7 will launch with the BlackBerry Bold 9900 and Bold 9930 devices (a.k.a. the Bold Touches) and Berries that came before those two won't be updated to v7 of the OS, not even the ones running version 6.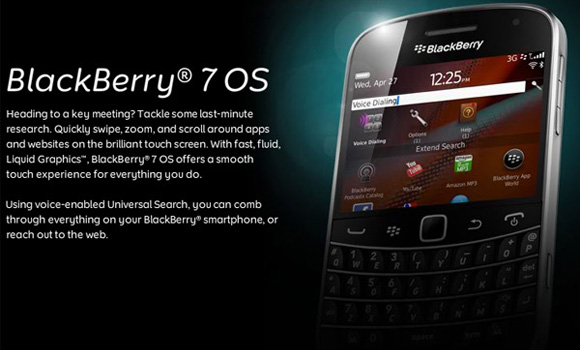 BlackBerry OS 7 incorporates BlackBerry Balance, which keeps personal and corporate data on the same device separate. It can be configured to, say, only wipe the corporate data on the phone or to forbid personal apps to access corporate files (e.g. you can't attach a corporate file to a personal email).
The BlackBerry browser has also received major improvement with OS 7. New graphics and JavaScript engines speed up pages and enable smooth panning and zooming. Support for HTML5 video has also been added.
Universal Search that was introduced in v6 of the BlackBerry OS works with voice queries too. Also, BlackBerry OS 7 comes with Docs To Go and for the Bold 9900 and Bold 9300 at least, all premium features of the app will be enabled out of the box.
By the way, BlackBerry OS 7 is not based on QNX (like the PlayBook OS is) so we don't expect to see apps from one running on the other (a la iPhone apps on iPad).
s
I bought a blackberry bold 9000///Can i update its OS to Blackberry os 7...Plz clear my doubt..thnx :)
C
Do i could install in my Torch 9800?
L
Hi Roark ,, Thankyou very much for resolving the issue. You were very helpful to me..I Upgarded my O.S & now its working like anything,,Thanks dear.Roark u told me that you are from India ,I heard that its a nice place to Visit for.Also i have ...
ADVERTISEMENTS