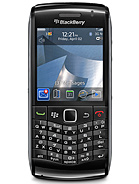 b
This is good but
Ihad first bb pearl in airtel but display is amall its comeS with bb8700 look is their I will selled my bb9630 tour and I will choosing bb9100
Othervise also iam going buy this becoze this smrtest phone

T
JRF, 25 Nov 2009I have a question, how come people say that the Pearl got it's name from the trackball if even... moreI want to know more about this phone
C
This cannot be classified as rumor anymore because theres 2 vids on youtube with this phone on and stuff and crackberry.com have also reported its out of the rumour mill now
J
I have a question, how come people say that the Pearl got it's name from the trackball if even the curves used one? I've never had a blackberry, my gf bought the 8350i a while back and two weeks ago I bought my 8520. I like the trackpad better than the ball. It seems smoother and doesn't get dirt stuck in there making it get stuck. Still if the pearl used it first then I guess that's why it's called that. I didn't like the keypad on the Pearl 8120 I looked at a year ago. I'd probably buy this as a second phone to my Gemini, but I wouldn't change it for the pearl. Maybe for the Bold 2. Hope these new BB's come out soon!
8
ISAURIS, 24 Nov 2009Well, i have my pearl 8100 and i love it, but idont really like this thing call (TRACKPAD, BLA... morei agree completely.....trackball forever!!
I
Well, i have my pearl 8100 and i love it, but idont really like this thing call (TRACKPAD, BLACKBERRY should call TRACKBERRY.....
R
The pearl 8100 was a great and a very easy phone to type on. The small form factor with the short qwerty makes this phone ideal for many. Don't know where you live or who you deal with on phones but the phone will be a great addition to bb's lineup. Learn to type on a condensed qwerty and u can type faster than on any curve!
g
it's like a fusion between 8520 and 8100...it doesn't look very bad...bad as gsmarena says it lost it's pearlness...it will have that 520 mhz processor...maybe a 3.15 mpx camera...A-GPS...but...the true reason that I bought my last blackberry pearl was that it was big,it had the trackball...now...everything is lost...too bad...
R
why have they even made this phone? the old pearl was annoying at best to type on.
Total of 415 user reviews and opinions for BlackBerry Pearl 3G 9100.