Back in style
BlackBerry Pearl 3G 9105 review: Back in style

BlackBerry OS 5: not quite the ultimate looker
The BlackBerry Pearl 9105 runs on the proprietary BlackBerry OS v5, which somewhat reminds us of a Hummer H1. It's not the kind of vehicle you want to be seen in as it's disastrously ugly but it will take you everywhere you need to be.
Just as with previous versions of the BlackBerry OS, the functionality is mostly there but the design is not easy on the eye. Come to think of it, even the BlackBerry OS 6 didn't deliver all the multimedia glamour that RIM promised so it would be foolish to expect such a thing from such an out-and-out BlackBerry device as the Pearl 3G 9105.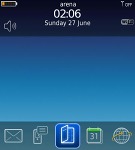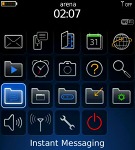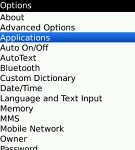 It's not too bad on the surface but it gets really ugly as you dig deeper
It's familiarity that counts here and we can guarantee that all current BlackBerry users will feel at home with this one.
The other side of the coin is that there are still tons of downright ugly text-only submenus plastered all over the Pearl 3G UI. Even with the slickest theme selected you are still just a couple of clicks away from these eyesores.
Obviously this is another device suitable for hardcore businessmen who can live without eye-candy (as this one really offers none of it). Users were obviously supposed to focus more on the hardware updates than the software as otherwise they would be really put off by the RIM attitude. We are not saying every OS should become webOS when it grows up but the DOS era is long gone.
Here's a video of the user interface.
The Pearl 3G has the same menu structure as all other BlackBerries released over the past few years barring the Torch. It's not exactly newbie paradise as the ideology behind it is rather different from everything else on the market.
The homescreen has 5 shortcut buttons placed at the bottom and all the status icons are at the top. The profiles and the connectivity settings can be accessed straight from here, as well as two other features that you choose to assign to the convenience keys.
Alternatively you can pick the today layout, which gets rid of the shortcuts and give you messages, phone and calendar events on screen. Pressing one of them takes you to the full-fledged app.
Menu navigation on the Pearl relies on a single menu key for revealing all the contextual options and it's an unusual experience for first-timers. Most other brands use soft-key based navigation with labels keeping all options in sight. There is no caption with BlackBerry here so you should check out what the menu key does in every situation. Come to think of it, Android follows pretty much the same logic.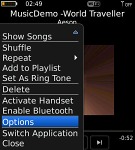 A context menu appears once you press the menu key
You are free to rearrange icons, place them in folders or even hide them as you see fit. Just as we said at the beginning of the chapter – the functionality is all there. However even Symbian is a great looker compared to the BlackBerry OS. Not to mention that the most popular smartphone platform worldwide also offers way more customization options.
It's exactly this unwillingness to accept change that makes BlackBerry devices suited for a niche market only. They are more of a complement to the service that the company offers than worthwhile handsets themselves. It goes like that – if you need the service you will have to pick one of the equally handicapped devices available .
Back on the positive track the BlackBerry Pearl 3G performs rather decently with little lag and good responsiveness. The OS is obviously well optimized or the 624 MHz processor inside is really efficient.
And we're kinda optimistic about the update to Blackberry OS 6 that was promised by the manufacturer.
Phonebook: not for the weak of heart
The BlackBerry Pearl 3G phonebook looks as something that came out of a bygone era of Windows Mobile PocketPCs and smartphones.
The good news is that once you shake off the initial shock you realize that it does the job it's meant to. You get virtually unlimited capacity and good organization plus the feature set to suffice for the needs of 99 percent of the users.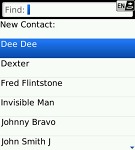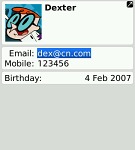 A functional but hideous contacts manager
The contacts get listed alphabetically by first, last name or company in one of those black and white lists that we warned you about. You can search a contact by gradually typing the desired name like on almost any other phone.
You can put your contacts in categories (personal and business by default but you can create others) and then filter your phonebook accordingly. There is also grouping available and you can create as many groups as you like.
Editing a contact gives you a vast number of fields which are organized in several sub-groups. You can also replicate some of the fields (those that you are going to need to anyway) as many times as you like.
Smart dial benefits telephony
The BlackBerry Pearl 3G 9105 did OK in its main duty – making calls. We didn't experience any problems with reception or in-call sound quality.
While that might be expected and doesn't bring any bonus points, Smart dial is certainly a great asset. So good in fact that there's hardly much point in using the phonebook for dialing numbers again. And it works when inserting contacts in messaging too.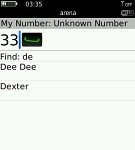 The Pearl 3G comes with smart dial
All you need to do is punch a few keys on the homescreen and the names that have the typed letters will appear on the screen instantly. You can then select them with the trackpad and initiate a call – it doesn't get any simpler than that, does it?
Another worthy call feature is Voice dialing, which gets activated by pressing the left convenience key by default. The blank screen will bring back memories of Windows 3.11 but hey, it's called vintage looks.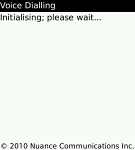 Alternatively, you can dial by voice commands
The BlackBerry Pearl 9105 did reasonably well in our traditional loudspeaker test too, producing a Good score. Still it might be a good idea to keep it within sight in noisy environments, unless you want to end up missing a call or two.
| | | | | |
| --- | --- | --- | --- | --- |
| Speakerphone test | Voice, dB | Pink noise/ Music, dB | Ringing phone, dB | Overall score |
| BlackBerry Torch 9800 | 65.9 | 65.5 | 65.8 | Below Average |
| BlackBerry Pearl 3G 9105 | 66.7 | 66.3 | 71.8 | Average |
| BlackBerry Storm2 9520 | 72.2 | 66.3 | 72.9 | Good |
| BlackBerry Storm 9500 | 75.8 | 65.0 | 72.7 | Good |
| HTC Touch HD | 77.7 | 73.7 | 76.7 | Excellent |