We had the BlackBery Priv for review recently, but we didn't manage to conduct a proper battery test. Well, we got another chance to play with the slider and there was no escaping this time.
The BlackBerry Priv is equipped with a fairly large 3,410mAh battery. In keeping with current trends, it is sealed in, but the Snapdragon 808, powering the phone, supports Quick Charge 2.0, which can get you from zero to 60% in about 30 minutes. Sadly, the bundled charger doesn't support quick charging so you would have to get an extra one.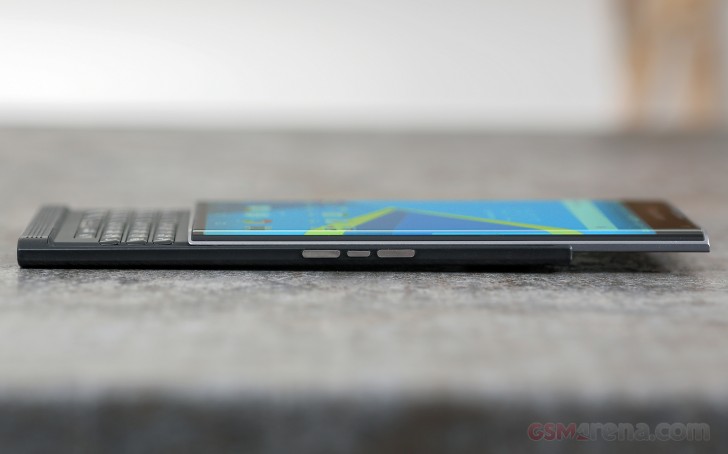 The Priv also has wireless charging capabilities, both Qi and PMA compliant. Sadly, only the US model supports that.
The BlackBerry Priv posted what can best be described as satisfactory battery life results. On a 3G call the smartphone lasted only around 15 hours, which is on the short side. A Samsung Galaxy Note5 can go for twice as long, while a Sony Xperia Z5 Premium and a Huawei Nexus 6P hover around the 20 and a half hour mark. Then again an LG V10 and the Apple iPhone 6s Plus arenít much better at 16:40 and 15:51, respectively.
Talk time
Oppo R7 Plus
30:46h
Samsung Galaxy S6 edge+
30:29h
Samsung Galaxy Note5
28:34h
Sony Xperia Z5 Compact
28:23h
Huawei G8
27:44h
Samsung Galaxy S6 active
26:29h
Motorola Moto X Play
26:28h
Samsung Galaxy A7 Duos
25:12h
Samsung Galaxy A8 Duos
25:02h
Samsung Galaxy A8
25:02h
Oppo R7s
24:03h
LG AKA
23:20h
Meizu PRO 5
23:10h
Oppo R7
22:58h
Motorola Moto X Style
22:23h
ZTE Nubia Z9
22:20h
Lenovo ZUK Z1
22:13h
Xiaomi Redmi Note 3
22:02h
Xiaomi Mi 4i
21:02h
Meizu m2 note
20:55h
Huawei Nexus 6P
20:50h
Sony Xperia Z5 Premium
20:27h
Asus Zenfone Selfie ZD551KL
20:22h
Samsung Galaxy J7
18:37h
Xiaomi Mi 4c
18:31h
Huawei P8lite ALE-L04
18:25h
Huawei P8lite
17:38h
Lenovo K3 Note
17:13h
Sony Xperia Z5
17:13h
vivo X5Pro
16:57h
LG Nexus 5X
16:57h
Microsoft Lumia 950 XL
16:50h
Microsoft Lumia 950 XL Dual SIM
16:50h
LG V10
16:40h
Meizu m1 metal
16:02h
OnePlus X
15:57h
Apple iPhone 6s Plus
15:51h
Asus Zenfone 2 Deluxe ZE551ML
15:47h
Sony Xperia C5 Ultra Dual
14:53h
Sony Xperia C5 Ultra
14:53h
Samsung Galaxy J2
14:51h
BlackBerry Priv
14:40h
Huawei Honor 7
14:33h
Huawei Mate S
13:53h
Meizu MX5
13:15h
Sony Xperia C4 Dual
13:11h
Microsoft Lumia 550
11:40h
HTC One A9
11:12h
Apple iPhone 6s
9:41h
Microsoft Lumia 950
8:25h
The Privís endurance when browsing the web over Wi-Fi stood at 8:20 hours in our test. Again nothing impressive, but not entirely disappointing. Itís the exact same number the V10 posted, marginally lower than the Nexus 6P, and an hour less than the Xperia Z5 Premium. The iPhone 6s rules here with a little short of 12 hours, outlasting the Note5 by an hour.
Web browsing
Samsung Galaxy S6 active
16:25h
Sony Xperia Z5
14:35h
Meizu PRO 5
12:51h
Apple iPhone 6s
12:27h
ZTE Nubia Z9
12:18h
Samsung Galaxy A8
12:18h
Samsung Galaxy A8 Duos
12:18h
Motorola Moto X Play
11:52h
Apple iPhone 6s Plus
11:51h
Meizu m1 metal
11:33h
Sony Xperia Z5 Compact
11:20h
Microsoft Lumia 950 XL Dual SIM
10:50h
Microsoft Lumia 950 XL
10:50h
Lenovo ZUK Z1
10:46h
Samsung Galaxy Note5
10:43h
Oppo R7 Plus
10:39h
Huawei Honor 7
10:38h
LG AKA
10:38h
Samsung Galaxy S6 edge+
10:25h
Xiaomi Redmi Note 3
10:12h
Huawei G8
10:00h
Meizu m2 note
9:54h
Huawei Mate S
9:43h
vivo X5Pro
9:34h
Xiaomi Mi 4c
9:32h
Samsung Galaxy A7 Duos
9:30h
Sony Xperia Z5 Premium
9:29h
Samsung Galaxy J7
9:04h
Meizu MX5
9:03h
Samsung Galaxy J2
8:58h
Huawei P8lite ALE-L04
8:42h
Huawei Nexus 6P
8:35h
LG Nexus 5X
8:32h
Xiaomi Mi 4i
8:27h
Huawei P8lite
8:27h
BlackBerry Priv
8:20h
LG V10
8:20h
Oppo R7s
8:07h
Asus Zenfone 2 Deluxe ZE551ML
7:52h
Asus Zenfone Selfie ZD551KL
7:43h
Microsoft Lumia 950
7:29h
Oppo R7
7:22h
Sony Xperia C5 Ultra Dual
7:15h
Sony Xperia C5 Ultra
7:15h
Sony Xperia C4 Dual
7:05h
Microsoft Lumia 550
6:55h
Motorola Moto X Style
6:49h
OnePlus X
6:32h
Lenovo K3 Note
5:56h
HTC One A9
5:22h
Where the BlackBerry Priv performs the worst is video playback. It throws in the towel after just 6 and half hours, but in all fairness the smartphone isnít meant to be a multimedia-gobbling device. The flagships are all over the place in this test too. The Z5 Premium, for example calls it a day after 7 hours and change, the V10 a quarter of an hour later, and the Nexus 6P in 10 hours. Itís the Note5 and iPhone 6s Plus that truly excel, both a smidge short of the 14-hour mark.
Video playback
Oppo R7 Plus
18:04h
Samsung Galaxy S6 active
18:03h
Meizu PRO 5
18:02h
Samsung Galaxy J7
16:22h
Lenovo ZUK Z1
14:14h
Oppo R7s
14:05h
Apple iPhone 6s Plus
13:57h
Samsung Galaxy S6 edge+
13:53h
Samsung Galaxy Note5
13:51h
Sony Xperia Z5 Compact
13:04h
Samsung Galaxy A8 Duos
12:45h
Samsung Galaxy A8
12:45h
Motorola Moto X Play
12:06h
LG AKA
11:54h
Asus Zenfone Selfie ZD551KL
11:32h
Huawei Mate S
11:26h
Xiaomi Mi 4c
10:47h
Apple iPhone 6s
10:46h
vivo X5Pro
10:41h
Microsoft Lumia 950 XL
10:38h
Microsoft Lumia 950 XL Dual SIM
10:38h
Samsung Galaxy J2
10:35h
Huawei G8
10:20h
Xiaomi Mi 4i
10:11h
Huawei P8lite ALE-L04
10:00h
Huawei Nexus 6P
9:59h
Samsung Galaxy A7 Duos
9:58h
Xiaomi Redmi Note 3
9:57h
Huawei Honor 7
9:43h
Microsoft Lumia 950
9:40h
Oppo R7
9:33h
Motorola Moto X Style
9:14h
Meizu MX5
9:13h
Huawei P8lite
9:00h
Asus Zenfone 2 Deluxe ZE551ML
8:34h
HTC One A9
8:33h
Meizu m1 metal
8:11h
Sony Xperia C5 Ultra
7:58h
Sony Xperia C5 Ultra Dual
7:58h
Sony Xperia Z5
7:53h
LG V10
7:30h
Sony Xperia Z5 Premium
7:14h
ZTE Nubia Z9
7:11h
OnePlus X
6:55h
Lenovo K3 Note
6:55h
BlackBerry Priv
6:33h
Meizu m2 note
6:27h
LG Nexus 5X
6:25h
Sony Xperia C4 Dual
5:39h
Microsoft Lumia 550
5:05h
All things considered, the BlackBerry Priv posted an endurance rating of 62 hours over our proprietary test routine. That is how long a single battery charge will last you if you use it for an hour each of telephony, web browsing, and video playback daily. Such a usage pattern is of course entirely artificial, but we've established it so our battery results are comparable across devices.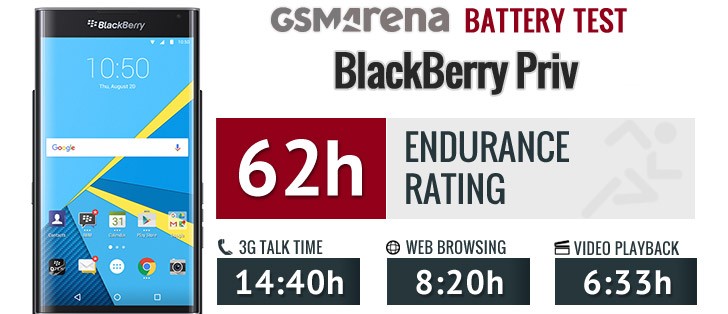 Our proprietary score also includes a standby battery draw test, which is not featured in our test scorecard but is calculated in the total endurance rating. The BlackBerry is very frugal in this respect and can last for over 15 days, if left untouched and connected to a 3G network.
The battery testing procedure is described in detail in case you're interested in the nitty-gritties. You can also check out our complete battery test table, where you can see how all of the smartphones we've tested will compare under your own typical use.
J
does blackeberry priv supports quick charge 3.0..?