As of now, the only US carrier that sells the BlackBerry Priv is AT&T. This might change, however, next month when T-Mobile (reportedly) launches the BlackBerry "Venice".
One of Phone Arena's readers revealed T-Mobile's internal work calendar, with the launch of the BlackBerry Venice (The codename for the BlackBerry Priv) on January 26.
Right now, the only way to get a BlackBerry for T-Mobile is by purchasing it unlocked, directly from BlackBerry's US online store. Still steep, it starts at $699.99.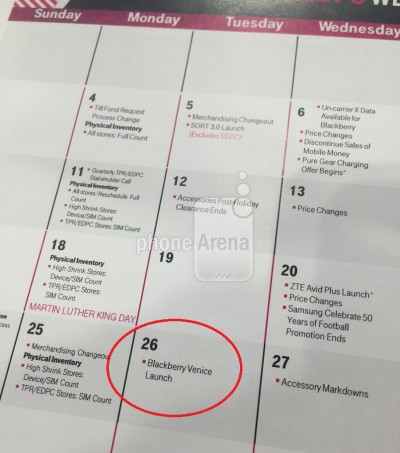 T-Mobile customers will now be able to acquire the new Android-powered BlackBerry with Jump On Demand, letting customers switch out their phones up to three times a year.
The BlackBerry Priv is the first Android-powered BlackBerry device that put emphasis on security features for enterprise users. It features a 5.4 inch screen with an 18MP rear shooter powered by 3GB of RAM paired with a hexa-core Snapdragon 808 chipset. It also features a slide up screen that reveals BlackBerry's signature tactile QWERTY keyboard.
?
Great my company is with T Mobile and our contracts will be due for renewals . Most of us will be migrating from Samsung and iPhones to the PRIV. This phone has the biggest battery amongst the top end smart phones. With our current devices it c...
D
Best phone of 2015. Glad T-Mobile will finally have it.