BlackBerry's Q2 2013 fiscal results were bad enough with $965 million in loss, but sadly, the Canadian phonemaker has reported the staggering $4.4 billion loss for Q3 2013. To make matters worse, the company's revenue is down as well. It's now $1.2 billion from $1.6 billion in Q2 of this year.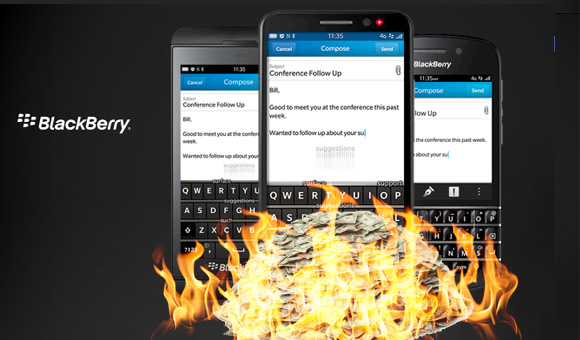 In the third quarter, BlackBerry managed to sell 1.9 million smartphones, almost half what it shipped in the previous quarter.
However, BlackBerry's CEO and Chairman John Chen kept his optimism and commented that "BlackBerry has established a clear roadmap that will allow it to target a return to improved financial performance in the coming year." He adds that the currently challenging task for the company is to transition the Devices operations to a "more profitable business model."
Furthermore, BlackBerry announced that it has signed a five-year agreement with Foxconn to jointly develop and produce smartphones. The products that'll come out of this partnership are set to sale in Indonesia and other undetailed emerging markets in the beginning of 2014.
In late November, BlackBerry released its COO, CMO and CFO from their duties, which brought additional stress and dismay into the company. Here's hoping the Canadian manufacturer will get on its feet and dust itself off from the downfall it's been into.
s
they hav gprs plan in 10 os
D
the weakest point of blackberry is they dont allowed normal gprs plan
r
BB shud adopt android, forget it wp its weak and slow os.