BlackBerry shares rise as it reports unexpectedly small quarterly loss

BlackBerry outed its financial results for the quarter ending on August 30 and the news aren't as bad as the company expected. It's still bleeding money, but because the loss is less than expected, the company's shares rose 5% today.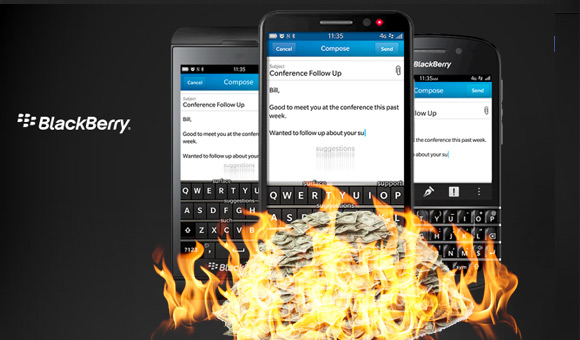 Net loss is reported at $207 million, which is 78.5% less compared to the same period last year. Then the company recorded a loss of $965 million, only to get stunned by a $4.4 billion loss the following quarter.
However, BlackBerry is confident the cloudy days are now over as the restructuring of the workforce is now complete.
"Our workforce restructuring is now complete, and we are focusing on revenue growth with judicious investments to further our leadership position in enterprise mobility and security," stated BlackBerry's CEO John Chen said in a statement.
The company's latest smartphone to go on sale is the BlackBerry Passport. BlackBerry revealed it managed to sell 200,000 units of the phone since this Wednesday.
The phone features a full-size three row QWERTY keyboard and a 4.5" 1440 x 1440 pixels IPS LCD and carries the company's bright hopes of appealing to those felling nostalgic about mobile physical keyboards.
?
200 000 Passports were ordered /sold within 48hrs via ShopBlackBerry.com and Amazon. These sales are not from carriers . I think the amount they sold is good from only TWO online stores.
D
200.000 units is horrible, worst samsung phone sell 5 millions jajaa. Blackberry is DEAD.
d
what is a blackberry password never heard of that phone.