Spy cam strikes again - the BlackBerry Slider got its sides and back photographed this time, not just the front. The new shots put it side by side to the BlackBerry Curve 8900 and also reveal the battery model, though not much about the camera.
So, the battery of the BlackBerry Slider, purportedly the BlackBerry Bold 9700a, is F-S1, instead of F-X1 like we previously thought. A quick measurement in Photoshop suggests that the Slider will be about 16mm thick.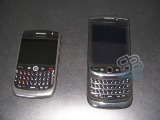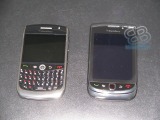 BlackBerry Slider gets photographed from all sides
We don't have much new information - the BlackBerry Slider will be the first of the Berries with a slider form factor and it will feature both a touchscreen (without SurePress) and a full QWERTY keyboard.
The camera of the BlackBerry Slider (potentially Bold 9700a) has an LED flash, the photos show that much, but there's no labels next to it. There's talk that it's going to be a 5MP snapper with "liquid lens technology", but it could as well turn out to be a regular old 3.2MP snapper.
This is all the info available on the BlackBerry Slider so far - we can't even predict when the next leak is going to be, let alone when the device will be released.
I
Dude, you are sick, lol!
i
wow is this the design?? look so crappy.... but i like the idea for touch screen but just hope is not this ugly design... thanks
D
Would you accept a RIM Job...
ADVERTISEMENTS