Back in Black... Berry
BlackBerry Storm2 9520 review: Back in Black... Berry

RIM are a company with style and simply hopping on the touchscreen bandwagon with another iPhone wannabe just wouldn't suit them. They certainly realized the importance of having a full-touch device in their portfolio but wanted a clear and legible BlackBerry imprint on it.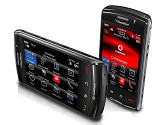 BlackBerry Storm2 official photo
The BlackBerry Storm 9500 was a truly intriguing device but never really managed to find its place in the new market it was built for. Too bold and unusual for the BlackBerry-loyals and yet too conservative for the rest of the world, it didn't quite get the results it was hoping for. But the successor might use the publicity the first Storm generated for its own good.
Key features
Quad-band GSM/GPRS/EDGE and 2100 MHz 3G with HSPA support
3.25" 65K-color capacitive touchscreen of 360 x 480 pixel resolution
Improved touchscreen experience with piezo-electric touch feedback system
3.15 MP autofocus camera, LED flash
BlackBerry OS 5
Wi-Fi and built-in GPS with BlackBerry maps preloaded
2 GB internal storage and a hot-swappable microSD card slot
Landscape on-screen keyboard is as close to hardware keys as we have seen on a touch phone
Nice looks and great build quality
3.5mm standard audio jack
Accelerometer sensor for screen auto-rotate
Bluetooth v2.1 and USB v2.0
Document editor
Good audio quality
Main disadvantages:
No email support without BlackBerry Internet Service account
Interface not as quick as competitors'
Chubbier than most touchscreen phones with similarly-sized displays
Mediocre camera
No FM radio
No web browser Flash support
No dedicated video-call camera
The good news is RIM decided to honor the Storm2 with a few upgrades over the original. However, none of them seems to be absolutely crucial so the greatest responsibility falls on the brand new piezo-electric touchscreen. The missing link between touchscreen and a hardware keypad is what many keen texters must have been waiting for. Or at least that's what RIM believe.




The BlackBerry Storm2 9520 views
Now, the SurePress screen didn't work out particularly well on the first Storm and a second failure might herald the demise of the entire series. So the BlackBerry Storm2 knows it needs to impress the audience or it might take a spot in history for all the wrong reasons.
But first thing first, let's check out what you get when you buy a shiny new Storm2. Unboxing follows after the break.
E
Only we don't like is the battery.It dead very fast.
p
Can I get a new 1 in nigeria.