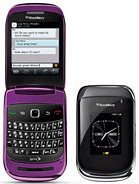 ?
This is a practical device as the screen and keyboard, the most delicate of items, save some contributors to GSMarena, are protected, don't need locks and then when working the earpiece is next to your ear, the mouth piece where it should be. Nver mind about the vaniety of the looks luvvies, this is a functional phone.
H
what's wrong with blackberry,are they going in the past?
It would be better if they use mirror instead of LCD ,
perhaps this will makes some sense.
?
I really do think that one Blackberry Flip phone is more then enough for the world. Flip phones in general are dying off, unless the specs on this thing game changing (which they won't) its not even worth developing.
?
officiallly the worst lookiing blackberry and probably the worst looking smartphone in the world. boooooooooooooo blackberry 9670
?
This phone is much wider than the pearl flip. They showed it next to a 9700 and they are the same width. Its basically a bold size flip phone.
b
might get this, depends on the form factor. (not too bulky)
Or just go for one of the new pearls... decisions decisions.......

Or the price of the 9700 will go down a bit and might be another option!
K
Cool flip... proud owner of the 8820 flip! This is what I am waiting for, do away with their SureType on the cramped Pearl series, add in HSDPA support, NO TOUCHSCREEN (I like this, touchscreen are problem prone and invites finger print). But the Pick/BB/Trackpad/Back/End button panel seems to be quite big and taking lots of space on the phone.

And there are only 3 reasons why I liked flip phone since StarTac/MicroTac.

#1 No Keypad lock needed
#2 I got 2 LCD SCREENS!!!
#3 My mouth piece is next to my lips, not on my face...
?
omg.... blackberry is running out of ideas!!!! ewwww best they went with a touch screen with a slide and qwerty keyboard....
S
I think it's pretty cool aright..!
Its just wat i have been w8in 4..itz got a flip
Decent screen size and amazing memory along with wifi BT and 5MP cam...
ThumbsUp 4 BB :D
J
Don't take this design so hard ! The concept of clamshell qwerty is GREAT ! I was waiting for this !
Total of 413 user reviews and opinions for BlackBerry Style 9670.