Two BlackBerry handsets are inching closer to release - the BlackBerry Storm 2 and the Bold 2. After much leaking there's still nothing official on either of those phones. But the Internet rumor mill is beginning to lean towards "coming soon".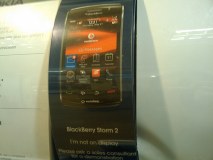 BlackBerry Storm 2 says it's not on display yet
First up, the BlackBerry Storm 2 - we've seen photos of it and even videos demonstrating its amazing clickable screen powered by piezo-magic. The omens of its imminent coming are a Vodafone display snapped at the Carphone Warehouse plus a spy-ninja style blurry Verizon training video. The preliminary info of what's in the box says 16GB microSD card (plus 2GB internal) and BlackBerry OS 5.0.
The other soon-to-arrive Berry, the BlackBerry Bold 2 (code-named Onyx), is set to become the BlackBerry corporate flagship. It trades the traditional trackball for a touchpad and offers 3G, Wi-Fi and GPS, not to mention it has some really nice looks. A tipster also let Engadget in on an announce date for the Bold 2 - October 21st.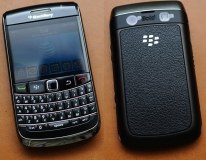 BlackBerry Bold 2 teases with good looks
October 21st can't come soon enough, can it? Prices, plans, even a release date are still a mystery however, so do count on coming home with one in two weeks.
N
BB storm2 (9550) is finally out, check out US BB site now... waiting now for Bold2...
J
Same goes for iphone, if one is used to using iphone he cannot use another phone.
I
RRP = Recommended Retail Price
ADVERTISEMENTS