Living the Olympic creed
BlackBerry Torch 9800 review: Living the Olympic creed

Telephony doing well
Unlike the phonebook, the dialer interface of BlackBerry devices has rarely disappointed us. You get a tad better graphics, tabs and cool features such as Smart dialing. By the way Smart dialing works when adding contacts in messages too.
Speed and voice dialing is also available and with a full QWERTY keyboard at your disposal you can assign half your phonebook a speed dial key.
The in-call screen offers four large and easy to press buttons plus five shortcuts to features you are most likely to need during a call. Those include notes, calendar, contacts, dial pad and home screen. Well that last one might not be what you need during a call but it's the quickest way to an application that is not on the list.
The phone offers good in-call voice quality and we didn't experience any drops or coverage issues at all.
We also ran our traditional loudspeaker test on the BlackBerry Torch 9800. It fell seriously short of impressive ranking well below the middle of our loudness table. You should definitely keep a close eye on that one in noisier environments. More info on our loudspeaker test as well as other results can be found here.
| | | | | |
| --- | --- | --- | --- | --- |
| Speakerphone test | Voice, dB | Pink noise/ Music, dB | Ringing phone, dB | Overall score |
| BlackBerry Torch 9800 | 65.9 | 65.5 | 65.8 | Below Average |
| BlackBerry Bold 9700 | 72.7 | 66.6 | 73.6 | Good |
| BlackBerry Storm2 9520 | 72.2 | 66.3 | 72.9 | Good |
| BlackBerry Storm 9500 | 75.8 | 65.0 | 72.7 | Good |
| HTC Touch HD | 77.7 | 73.7 | 76.7 | Excellent |
Messaging up for the task
If you have used a BlackBerry handset before then the Torch 9800 messaging department holds no surprises for you. The device excels in handling all kinds of messages - SMS, MMS and email. It also has the BlackBerry instant messenger preinstalled.
The inbox is neatly organized by date, but you can also move your messages to different folders. Searching is also available and naturally threaded messaging.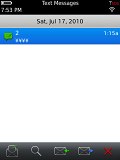 The inbox is sorted by date by default but there're also folders and a nice search
The message editor packs a nice and simple user interface but still has all the functionality you might need. Adding an attachment is a click away while the recipient field sports Smart dialing.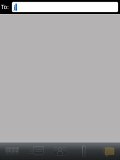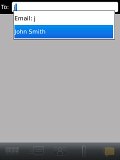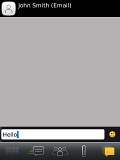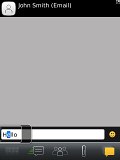 The message editor is nice and easy to use
All that coupled with the excellent keyboard make the BlackBerry Torch 9800 a really worthy messaging device. Not that we expected something else but credit has to be given where it is due.
And in case you don't feel like opening the physical keyboard there are three on-screen input methods that you can use. Multitap, SureType and full QWERTY virtual keyboards are there to serve for those short inputs when opening the slider isn't justifiable.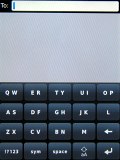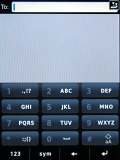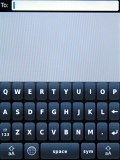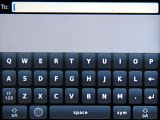 The available virtual keyboards
Again the only downside of the Torch messaging is the fact that you can only use BlackBerry Internet Service email accounts. This means that without a proper Blackberry service plan the handset is just a plain email-less device and globally there are quite a lot of carriers that do not support BIS yet.
Image gallery ain't half bad
The image gallery of the Torch received a slight cosmetic update on the browser and a new feature or two. It has standard functionality including thumbnail and list view of the images.
The gallery also offers finger gestures, meaning you can browse pictures by sweeping your finger across the screen. You can also pinch-zoom your way in and out when looking at a single photo.
Opting between portrait and landscape mode is automatic, thanks to the built-in accelerometer. All you need to do to switch modes is to flip the phone sideways.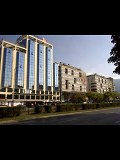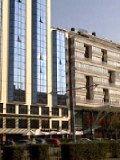 Looking at a single photo • Zooming in is rather slow
Overall, picture browsing is decently fast but the zooming is on the slow side. There is some noticeable lagging and that damages the whole experience a bit.