Living the Olympic creed
BlackBerry Torch 9800 review: Living the Olympic creed

5 megapixel shooter does autofocus too
The BlackBerry Torch 9800 is the RIM device with the best camera yet. But winning those Paralympics doesn't guarantee that it will be able to compete at the highest level. There's nothing too bad about a 5 megapixel autofocus camera with a LED flash, but there's nothing to be excited about either.
It the Torch was just another BlackBerry we would be more than happy with that, but it's promoted as a multimedia phone too and we don't think it lives to the expectations.
The camera interface has been changed but is still among the worst on the market. Since the display has the same aspect ratio as the camera sensor, the readings that appear at the bottom cover a part of the viewfinder and impede proper framing.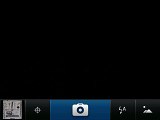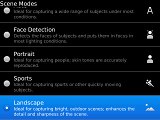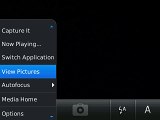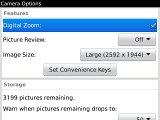 The camera interface needs more word
There are only three shortcuts to actual camera functions but at least those are rather well chosen (scenes, flash settings and geo-tagging).
This time RIM also added a few features, which might be considered standard elsewhere but are still novelty to BlackBerry. We are talking about the just mentioned scenes and the face-detection. Geo-tagging is also here but that's been around for a while now.
To get to the rest of the settings you will have to press the menu key and search for the options item in the scrollable list. There you can pick you preferred storage place (phone or microSD card), whether or not digital zoom to be available and the obligatory picture size.
The image quality of the BlackBerry Torch is decent with enough resolved detail and tolerable (if unspectacular) noise levels. Contrast is fine too but the colors are off more often than not.
Here go several samples so you can judge the image quality yourselves.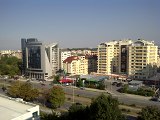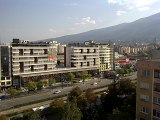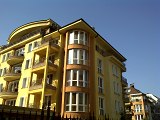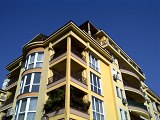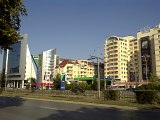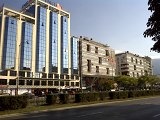 BlackBerry Toch 9800 camera samples
Synthetic resolution
We also snapped our resolution chart with the BlackBerry Torch 9800. You can check out what that test is all about here.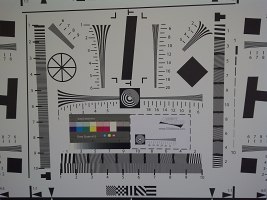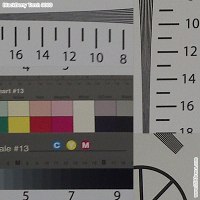 BlackBerry Torch 9800 resolution chart photo • 100% crops
VGA video recording no longer suffices
The Torch is able to capture VGA videos at 24 fps. Now that was good enough a couple of years ago but today it's not worthy of a flagship. There are already a few dozens of phones in our database that do 720p video recording so you should forgive us for not being over-excited with the Torch.
And with the handset also applying a bit too much compression we don't think the videos are really good even in their own league.
Videos are captured in 3GP format and if you fancy, you can apply various color effects. The LED flash can also be set to work as a video light and there's some kind of image stabilization, though we didn't find it particularly effective (as is the usually the case with mobile phones).
BlackBerry Torch 9800 sample video
Connectivity: all covered
Luckily the time where you got to choose between three BlackBerry devices, based on whether you prefer 3G, GPS or Wi-Fi are now long gong. The Torch comes with an excellent connectivity set with no noticeable omissions.
The quad-band GSM/GPRS/EDGE support secures global roaming and the 3G with HSPA gives you the extra speed. Wi-Fi is also at hand with a nice and easily customizable.
Bluetooth with A2DP support rounds off the list of wireless connectivity options.
The Torch also offers a standard microUSB port that is enabled for both data connections and charging.
Finally, you have the option to use your hot-swappable microSD memory card slot for file transfers.