Living the Olympic creed
BlackBerry Torch 9800 review: Living the Olympic creed

The web browser get pinch-zoom, no Flash
With a trackpad and a multi-touch display, browsing the web on the Torch is an enjoyable experience indeed. RIM has put the touchscreen to great use and have added pinch-zooming, while the trackpad-controlled mouse can come into play when extreme accuracy is required.
Panning is done by sweep gestures, and despite having troubles with larger pages, it does just fine on most occasions. You can also zoom in by double-tapping on the screen.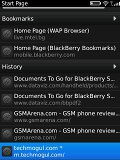 The Torch browser start-up screen
When you zoom in by tapping on a desired column the text does automatically center onscreen. Well at least it tries to, as on some sites it's a matter of hit and miss really.
Page rendering is decent, up with the best in class. The resolution allows a good amount of content to fit on the screen but it is no match for the WVGA screens, let alone the iPhone 4 Retina display.
Unfortunately, the web browser has no Flash support, meaning Flash-enabled websites are a no-go for the Torch, unless they have a dedicated mobile version.
Text reflow is also absent but that is not as big of an issue.
In general the Torch web browser is reasonably comfortable to work with, but still not the best on the market. That title currently lies in either Android's or iOS's hands depending on whether you prefer functionality or speed. Sadly, the Torch falls short on both.
Organizer does the job
The organizer is one of the best parts of the Torch, just as all previous BlackBerry devices. It has a good set of applications and now that the BlackBerry OS 6 has added to their look makes up for a powerful time-management tool.
The calendar has monthly, weekly, daily and agenda view modes and allows easily customized events to be set up. A few event presets would have been nice too but it's not really a deal-breaker.
Mobile office is also decently stocked, with preinstalled applications able to open Word, Excel and PowerPoint files. PDF files can be handled too but through a separate app.
Strangely enough though this time document editing isn't supported and you will need to purchase a paid upgrade for that. This was available on the Storm2 and it's curious why RIM removed it now.
The organizer package includes a calculator with a built-in unit-converter as well as voice recorder and a Notes application. A handy To-do manager allows you to set up and organize your upcoming tasks.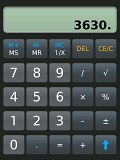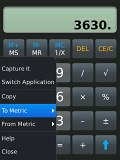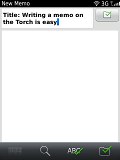 The calculator has a built-in unit converter • notes app
The Alarm application will only allow you to set one alarm which doesn't get standing ovation. It's quick to turn on but most of its settings can only be adjusted from the settings menu. There you can change the tone, snooze interval and the volume as well as the vibration intensity.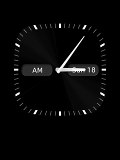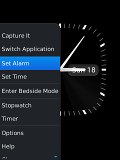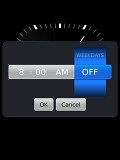 The Clock application • setting up an alarm
The clock also offers a bedside mode that turns off the status LED (unless you set it otherwise) and displays a large clock on the screen. The display then automatically lights up when you lift the phone thanks to the built-in accelerometer.
Finally, the preinstalled Facebook, Twitter and MySpace applications will allow you to keep updating your social network profiles even when you are on the go.
GPS navigation
BlackBerry Torch comes with a built-in GPS receiver with A-GPS support. For navigation you get BlackBerry Maps, which comes preinstalled.
BlackBerry Maps provides basic map functionality plus voice-guided navigation. You can enter addresses straight from your phonebook and you can also save your favorite spots so you don't have to type them every time. Finally it lets lets you send your location to anyone via email or SMS.
BlackBerry Maps doesn't work without a BIS account much like email.