The BlackBerry Torch 9800 price goes down, the Nokia N8 price goes up. The Torch is getting a 50% price cut after just one week of (underwhelming) sales, while the N8 is once again pre-order for more than the 370 euro it promised.
The BlackBerry Torch 9800 is the third touch-operated Berry, and the very first slider. It launched a week ago for 199 US dollars, but now goes for only 99 USD. You still have to sign a contract, but a 100 dollar reduction in price is not a bad deal at all.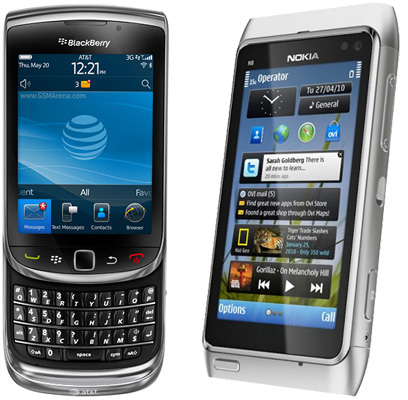 When the Nokia N8 was announced its suggested retail price was 370 euro (475 USD). Right now it's available on the Nokia USA site for pre-order with a $550 price tag (430 euro). That's 60 euro over (still better than the 470 euro price tag from Amazon Germany), but not quite what Nokia promised. Let's hope that the price will fall when the phone is finally available.
Speaking of availability, it's listed as "End of September", which is on track with some of the rumors, though we've heard August 26 too.
a
$99?? thats impossible. am living in jamaica and they are like for a large some of cash. am talking like $65 thousand
K
The BlackBerry Torch Price is acceptable, Considering buy one.
?
is it real?? where can i buy the bb torch??? pm me asap!!!
ADVERTISEMENTS