Keyless, not clueless
BlackBerry Torch 9860 review: Keyless, not clueless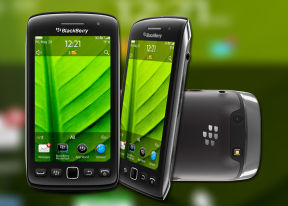 Music Player
Surely RIM have refreshed the Music Player icons, but that's basically all they did. It's still pretty conservatively styled, but most of the functionality has been there since BlackBerry OS 5.
There's quick searching of tracks and automatic sorting by artist, album and genre. Creating custom playlists is also supported.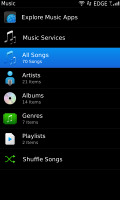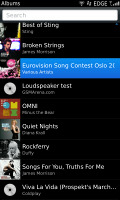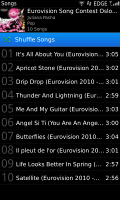 Browsing your tracks in the music player
Album art is on the list of included features too, along with equalizer presets and the single track repeat option.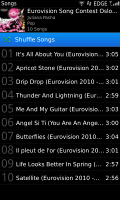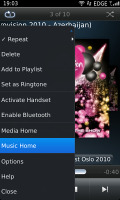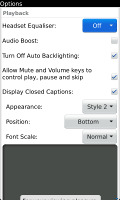 The now playing screen and the available settings
Quite naturally, the player can also be minimized to play in the background. You can then go back to it via the task manager or the main menu. Pausing it by hitting the mute button is also possible, but unfortunately, there's no indication of the currently playing song on the home screen.
Great video codec support
We liked the Bold Touch 9900 for its video-playing capabilities and the Torch 9860 should be even better.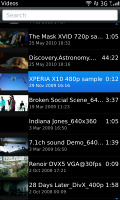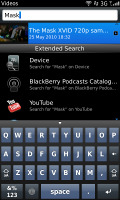 The video player interface is almost identical to the music player
The bigger screen is an obvious advantage. The video player's interface might not be too impressive, but the functionality is mostly there.
There are the usual playback controls when you hit a key or tap on the screen plus a dedicated fit/zoom to screen one.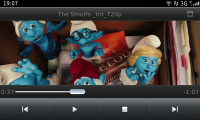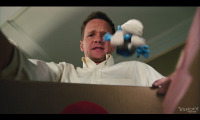 The video playback screen and some of the available options
The Torch 9860 video player promises to support DivX, XviD, H.264/MPEG-4 and WMV videos up to 720p resolution. It did manage to play all of the DivX files we threw at it, WMV, MOV and MP4 files up to 720p were no problem either, but the XviD ones didn't go that easy. Some of the files were OK, while others where just incompatible. It seems it's a bit rate or audio thing, but we won't count on that XviD support much.
The general performance here is decent, which is probably more than most BlackBerry users will ever need.
Simplistic gallery
The image gallery hasn't changed since the OS 6, so it should be familiar to all the BlackBerry users already.
Images can be browsed in grid or viewed as a standard list. There's searching by name here too, but we're not the type that remembers the names of our image files, so we won't count that one in favor.
Unlike the Bold Touch 9900, the Torch 9860 has a built-in accelerometer to automatically toggle portrait and landscape mode as you browse your picture collection. There's a noticeable lag in the auto-rotation though, which tends to get pretty annoying. And it doesn't just affect the image gallery. This may be a minor glitch of our test unit but the accelerometer does seem to act up.
Picture browsing is pretty fast and so are panning and zooming, including the pinch zoom. A tap and hold on a picture provides shortcuts for sending, copying and renaming. You can set it as wallpaper as well or use as a contact photo. Further options such as image properties, rotate or slide show are available in a popup menu.
Decent audio output
The BlackBerry Torch 9860 audio quality is hardly the best on the market, but it's still among the most gifted musicians in the RIM family and that's probably going to suffice.
With no resistance applied to the line-out (i.e. the active external amplifier) the Torch 9860 does really well. It has decent signal-to-noise ratio, dynamic range and stereo crosstalk. The volume levels are high and there's next to no harmonic distortions. Intermodulation distortion and frequency response are a bit worse than average, but it's nothing that's easy to detect with a naked ear.
Some issues arise when you plug in a pair of headphones, though. The volume levels do drop a bit, but the main problem is the rapid rise in stereo crosstalk - it really goes through the roof with this one.
And here come the full results so you can see for yourselves:
| | | | | | | |
| --- | --- | --- | --- | --- | --- | --- |
| Test | Frequency response | Noise level | Dynamic range | THD | IMD + Noise | Stereo crosstalk |
| BlackBerry Torch 9860 | +0.14, -0.62 | -86.8 | 88.2 | 0.011 | 0.110 | -86.5 |
| BlackBerry Torch 9860(headphones attached) | +0.15, -0.57 | -86.7 | 88.3 | 0.019 | 0.169 | -36.8 |
| BlackBerry Bold Touch 9900 | +0.46, -2.47 | -86.3 | 87.7 | 0.012 | 0.126 | -81.2 |
| BlackBerry Bold Touch 9900(headphones attached) | +0.86, -2.54 | -83.0 | 84.1 | 0.065 | 0.180 | -38.9 |
| BlackBerry Bold 9780 | +0.26, -3.61 | -89.7 | 87.9 | 0.012 | 0.021 | -89.4 |
| BlackBerry Bold 9780 (headphones attached) | +0.24, -4.87 | -89.5 | 87.5 | 0.0093 | 0.271 | -55.9 |
| Apple iPhone 4 | +0.01, -0.07 | -90.1 | 90.0 | 0.0068 | 0.012 | -89.6 |
| Apple iPhone 4 (headphones attached) | +0.01, -0.07 | -90.4 | 90.4 | 0.0036 | 0.092 | -68.4 |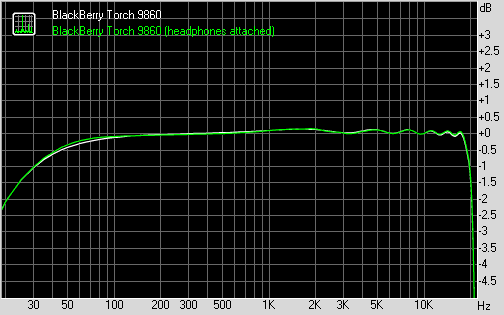 BlackBerry Torch 9860 frequency response
You can learn more about the whole testing process here.