This article is outdated. We have already published a full review.
The touchscreen revolution wasn't equally kind to all big phone makers. Samsung and Apple were quick to spot the opportunity and got propelled to the top, very much at the expense of the likes of BlackBerry and Nokia. And while the Finns thought the best way to turn their fortunes around was to join forces with Microsoft, BlackBerry is trying to stay afloat on its own.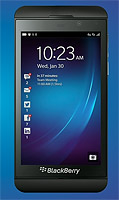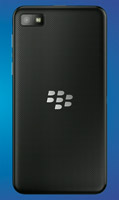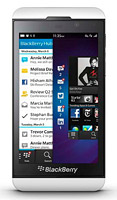 BlackBerry Z10 official photos
The revenue the BlackBerry Z10 will bring is probably not lifesaving for a company that still isn't too deep in the red, but it's the message they're trying to send that's so important. Challenging the establishment with a brand new platform isn't something you do in just one try. The Z10 has to convince users that BlackBerry has what it takes to compete with the best. After a certain point, this is less about skill and strategy, and more about motivation and commitment.
BlackBerry Z10 at a glance
General: Quad-band GSM/GPRS/EDGE, tri/quad-band UMTS/HSPA, optional 100 Mbps LTE
Form factor: Touchscreen bar phone
Dimensions: 130 x 65.6 x 9 mm, 137.5 g
Display: 4.2" 16M-color WXGA (768 x 1280 pixels) capacitive touchscreen TFT
CPU: Dual-core 1.5 GHz Krait
GPU: Adreno 225
RAM: 2GB
OS: BlackBerry 10
Memory: 16GB storage, microSD card slot
Camera: 8 megapixel auto-focus camera with face detection; Full HD (1080p) video recording at 30fps, LED flash, 2MP front facing camera
Connectivity: Wi-Fi a/b/g/n, Wi-Fi hotspot, Bluetooth 4.0, standard microUSB port, microHDMI, GPS receiver with A-GPS, 3.5mm audio jack, NFC
Misc: BBM, BlackBerry Maps
BlackBerry says it has finally created a smartphone that will no longer target corporate users only, but one that average Joes will crave. The problem is we've seen the Canadians make that promise before, so we'll have to see it to believe it.
Rebranding the company and dropping the confusing naming scheme looks like a good move. Enough of the RIM Blackberry Torch 9800, 9810, 9850, etc. nonsense - you simply get a BlackBerry Z10 now.
And now that you can easily ask the guy at the shop to show you the right smartphone, let's see if it can actually inspire you to reach for your wallet. A proper hardware examination is due and it starts right after the break.
Editorial: Ever since the BlackBerry 10 platform was announced alongside the Z10 and Q10 smartphones, our mailbox has been swamped with review requests and we were asked rather crossly why we were taking so long. Some even went as far as to accuse us of doing it on purpose to sabotage the company.
There's a simple explanation. The announcement event was invitational and we didn't get invited. Not the first and won't be the last. We tried to obtain a review unit through BlackBerry and their publicity agencies, and failed. Oh, well. It's their event and their phone. It says nowhere that they have to treat all applicants equally - this is our job. We just can't shake off the feeling that a fruit-free URL has cost us once again.
Anyway, we do our best to work around challenges like that and as usual we try to be as fair as possible. We still did all we could to cover the BlackBerry Experience event properly, and fill in as much detail as possible given the circumstances.
After that, our only option was to get a Z10 unit for a review as soon as the smartphone was available in stores, and thanks to our partners at Basatne Electronics we are now able to give you this preview, which we believe covers all key aspects of the smartphone.
Naturally we'll be following it up with a complete review next week, where each element of the smartphone will be examined in greater detail and we'll hopefully help fence-sitters make up their mind.
Finally, we'd like to touch on the subject on whether we hate BlackBerry (or any other company for that matter). Being the geeks that we are, what we want to see is fierce competition as it drives innovation and, ultimately, more and better choice. We'd rather see companies succeed than go bankrupt - we want them to fight back rather than go down.
In the end, it's exactly the wealth of options that makes websites like this relevant, so it wouldn't make much sense for us to want that to change. With only one maker or OS you wouldn't need us - PayPal and an online store would suffice.
Now that we have that out of the way, we can get busy bashing the Z10. Now, we hope we don't need to tell you we're joking. There we go.
Special thanks to Basatne Electronics for providing the review unit!
?
Hi,lm Kabore all the way from Ghana nd lm using BlackBerry z10.for some months now, ma battery runs faster and even when l charge,l cn only use it for an hour nd it's off. Plse help me other wise it really cool. I love it's functions.
h
Hi In South Africa greetings. Since the Z10 was launched early 2013 I haven't seen the handset in many hands of my fellow citizens. Common reason linked to this is the fact that when the handset was launched it was too steeply priced. Only top ran...