This article is outdated. We have already published a full review.
Browser keeps Flash alive
The BlackBerry Z10 has a WebKit-based browser with full Flash support. The 4.2" WXGA screen isn't as big as most droid flagships at the moment, but it is still bigger and sharper than that of an iPhone 5.
The interface is pretty straightforward. The first thing you see is the New tab interface, which shows thumbnails of recently visited sites. It's a bit annoying that these can't be deleted. There's no Incognito/Private mode either, so be careful what sites you open.
Entering URLs is pretty quick thanks to the autocomplete feature, which managed to guess correctly what we're trying to type most of the time.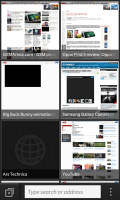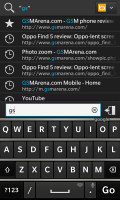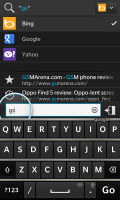 The New tab interface • entering an URL • picking search service provider
Anyway, the UI that displays websites is pretty Windows Phone-like - the web page takes the whole screen, except for a line at the bottom (it even covers the status bar at the top of the screen). The line at the bottom holds a Tab switcher button, Back button, URL field and a Menu key.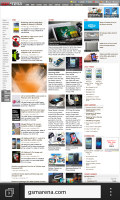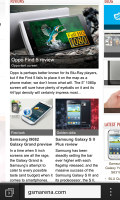 Browsing GSMArena.com on the BlackBerry Z10
The Tab switcher button brings up a list of currently open tabs, along with Bookmarks, History and a New tab shortcut. The current page you're browsing is pushed to the right to reveal all those. Instead of tapping the Tab switcher button, you can swipe to the right but the gesture needs to begin at the bottom where the Tab button is.
It can be a short swipe - just enough for the option icons to show up and get docked on the left side of the screen. That seems like a handy way to keep those options and tabs always visible, but they hide as soon as you tap anything - a missed opportunity.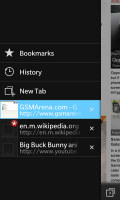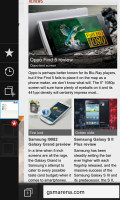 Switching tabs • these options can be docked, but go away quickly
Anyway, the browser is very fast and elaborate web sites are rendered without a hitch. Pinch zooming is smooth and there's double-tap to zoom too, but no text reflow. From the Menu button you get access to several more options, including Find on page and Share.
A cool option has the browser remember which tabs were open, so the tabs will still be there even if you close the browser and open it again later (similar to desktop browsers). Another interesting option is Reader - it strips out the site's interface and leaves only the content, making it much easier to read on a phone's screen. It doesn't work very well with multi-page articles though.
The BlackBerry Z10 has full Flash support - it's among the last active platforms that do. The dual-core Krait processor had no problem playing a 1080p YouTube videos.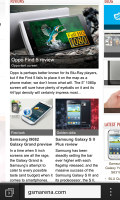 BlackBerry Z10 has full Flash support
First impressions
BlackBerry did an excellent job with the hardware of the Z10 - it's an attractive and very well-built smartphone. We wish the battery had more juice, but it's user replaceable and compact enough, so it's no problem carrying a spare. If the Z10 ran any other OS, we'd probably be saying it's one of the best phones on that platform - it's got the design and build quality, all the ports and slots, no gimmicky features. It's the brand new platform that's yet to prove itself worthy, and possibly challenge Windows Phone for its spot as the third player in the smartphone wars.
BlackBerry 10 OS is almost unrecognizable as a successor to BB 7. The interface takes iOS's love of skeumorphism and combines it with the gesture trend that started with Web OS and MeeGo (both now dead) and continues on with Windows 8 and Jolla.
We have to say it feels a bit unpolished though - there's a pretty steep learning curve when it comes to all the gestures. We got used to them, but someone coming from the non-touch BlackBerry QWERTY messengers (or even iOS or Android) will be in for a challenge.
If the BlackBerry Z10 had come out in May last year (when BB 10 OS was first unveiled), it would have sent a cold shiver down the spine of Androids and iPhones. But both platforms and the phones they power have been steadily moving on, squeezing all competing platforms into a very tight corner of the market.
As things stand now it's perhaps not iOS or Android that BB 10 is competing with but Windows Phone. Both BlackBerry and Microsoft depend on corporate users buying their products and both tout great centralized messaging and enterprise security. They'll attract some casual users too (especially on a bring-your-phone-to-work basis), but the momentum of the two leading platforms is pretty great now and it won't be easy stopping them.
So, in the year 2013 the BlackBerry Z10 is merely an excellent phone - we're still eager to see what else it has to offer and will be publishing the full review as soon as possible. By the sound of it, BlackBerry users are excited too.