There is still a day left for the launch of RIM's BlackBerry 10 platform and we have already seen a lot of the BlackBerry Z10 device, which will be one of the few being announced tomorrow.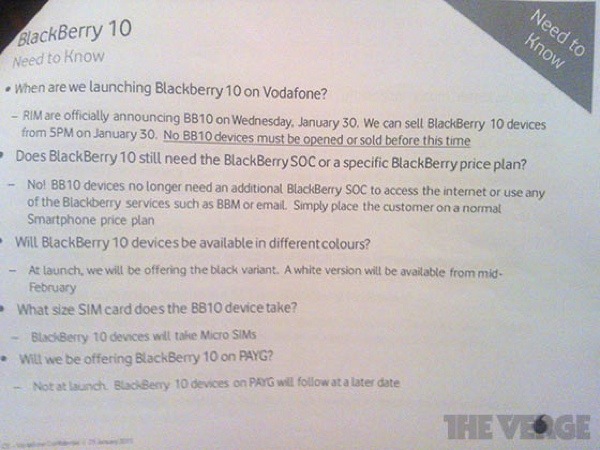 The latest bit of information actually sheds light on when the phone will go on sale, which will supposedly be on the same day as the launch, that is Wednesday, January 30.
The information comes from an internal Vodafone UK document, which confirms that the phone will go on sale tomorrow from 5 PM onwards. Other things mentioned in the document include no need to use specific BlackBerry data plans to use services such as BBM or internet access and the device can be used on regular data plans, something that was not possible on previous BlackBerry devices.
The document also mentions that at launch the Z10 will be sold only in black, with a white colored option arriving later in mid-February.
According to The Verge, the phone will cost you £47 per month for 3GB of data and unlimited talk and text for 24 months with no upfront cost. You can also go for a £25 plan with an upfront cost of £229 that includes 100MB of data, unlimited texts, and 100 minutes of talk time.
We should find out more information about the device itself tomorrow, so watch this space.
D
did you purchase a bb phone in you life.how can you say bb is a poor.first you purchase a mobile of bb and tell to others........................................................................ dangerssssssssss
ADVERTISEMENTS