Introduction
The BlackBerry Z30 launches in time of crisis and will be looked upon as the savior, or end up as the one that witnessed the company's undoing. Market share has hit the fan, as RIM of old which stood for innovation and vision, has turned into the money-losing, job-cutting, CEO-swapping, rescue-deal-awaiting BlackBerry that we have now.
Yet, in the middle of all this, another flagship gets unleashed to hopefully help and turn around the shrinking market share and ease the pressure from all sorts of competition. The BB 10 OS was indeed a great comeback, especially from such a conservative company, but the Z10 failed to become the kick-starter many thought - hoped - it would be. It's now the BlackBerry Z30's turn but the company may have already lost the smartphone battle and now running in survival mode.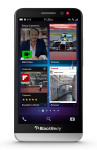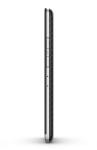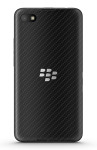 BlackBerry Z30 official pictures
The Z30 isn't BlackBerry's first smartphone to entirely break up with the old ways and go after the multimedia powerhouses of the competition. In fact, a five-incher must've been on the cards ever since the 4.2" Z10 appeared early this year. This sure looks like a steep increase in screen size but Blackberry must've been aware of the fact that they needed to catch up and do it fast. It's a 720p Super AMOLED display too, a second for the company after the Q10, but the first full-scale touchscreen.
The Z30 is powered by an upgraded Qualcomm chipset with a more recent GPU and has better battery backup than the preceding Z10. The latest version, 10.2, of the BB OS brings lockscreen notifications, a new instant preview and reply feature, new Priority Hub, updated system apps, USB host and more.
Here is the BlackBerry Z30 complete feature list.
Key features
Quad-band GSM/GPRS/EDGE, penta-band UMTS/HSPA, penta-band LTE
5.0" 16M-color 720p Super AMOLED capacitive touchscreen
Dual-core 1.7 GHz Krait, 2GB RAM, Adreno 320
8 megapixel auto-focus camera with face detection and Time Shift; LED flash, 2MP front facing camera
Full HD (1080p) video recording at 30fps; 720p recording with front-facing camera
16GB storage, microSD card slot; built-in Dropbox and Box integration
Ability to side-load and run Jelly-Bean-compatible apps
Dual-band Wi-Fi a/b/g/n, Wi-Fi hotspot; Wi-Fi sync
Bluetooth 4.0
NFC
Standard microUSB port, USB host, microHDMI
3.5mm audio jack
GPS receiver with A-GPS and GLONASS
BlackBerry 10.2 OS
Office document editor
BlackBerry Hub with extensive social networking connectivity
BBM with video chat and screen sharing
Main disadvantages
Below-par screen resolution, the competition has 1080p displays
The UI poses a steep learning curve
Thick and heavy, not quite up to the usual high standard of design and finish
BlackBerry Maps fall short of the competition
Camera offers little control over image quality
Audio quality degrades with headphones plugged in (as opposed to an external amp)
BlackBerry 10 is still a toddler compared to iOS and Android, but the others can certainly learn a trick or two. And you can't accuse BlackBerry of not trying either. Many popular apps missing at the premiere of the OS are now available in the BlackBerry World. Popular Android and iOS games are making their way to the platform too.
The ability to run Android apps isn't new to the BB 10 OS but the 10.2 version is finally beginning to make a difference. There's Jelly Bean compatibility now - and hardware acceleration is enabled, so the experience should be superior to simply running ICS apps through an emulator. BlackBerry has finally unleashed the BBM messenger on other platforms too and it's enjoying a good reception. Overall, the BlackBerry 10 OS looks fresh and compelling with innovative gestures and attractive design, but it will definitely get the job done too.
But will the BlackBerry Z30 succeed where its BB10 siblings failed quite miserably - make money and bring fresh users to the platform? That's what we'll try to find out.
Follow us after the break, where we start with our traditional hardware checkup.
B
I hav come to realise the fact that no phone, not even the iphone can be like the most secure BLACKBERRY! Pls can anyone right there tell me if BKBY still work cuz i need to buy two Z30 for myself nd mom. Pls does it still work?
T
My blackberry z30 shut down during chargeing and has refuse to start up after several attempt but the red light is blinking, please help me out