Telephony and phonebook
To get to the dialer, tap the Phone shortcut in the bottom left corner (it's visible on all homescreen panes but the Hub). The dialer has three tabs - Calls, Contacts and Dial pad. We were a little disappointed to find out that you can't swipe between those three (after all, you can swipe between almost anything else).
The Dialer has been pushed to the third place and allows you to access your contacts with just a few tpas. Furthermore, the virtual dialer has no smart dial, you have to enter the number manually. There is a feature called "Smart dialing" but it's not the usual "search as you type" thing. Instead, it only automatically applies country and area codes to the numbers you dial (which is useful when you are in roaming and you only have your contacts' numbers stored in your local format).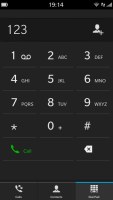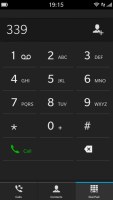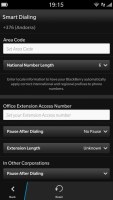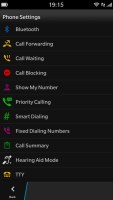 The dialer is very basic • Smart dial
Anyway, you're better off using the Contacts tab. It's a list of contacts sorted alphabetically. There's a search field - which is accessed from the icon shortcut in the bottom of the screen. A tap on a contact expands into a list of all assigned phone numbers.
The Call log features three shortcuts on top - Voice Mail plus three contact numbers. You can add more quick-dial numbers here, but the more you add, the further down the actual call log gets pushed.
The call log itself displays either all calls or just missed calls (there's a toggle). Calls are grouped together to save space, e.g. two outgoing calls to the same contact are displayed as one item with a call counter.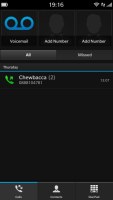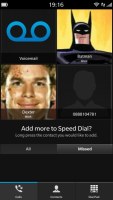 The call log has quick dial contacts
The Phonebook looks a lot like the Contacts tab of the phone app, it also has a search field and it is also automatically activated when you start typing with the keyboard. Tapping on a contact here brings you to the contact info, which is split into three tabs.
The first tab is details - this is where all the phone numbers, email accounts, URLs, birthday and other info (including Facebook friends and Twitter followers count) are listed. If the same contact uses multiple services, you can link the entries and have everything in the same place.
The second tab is Updates. All social networking updates are listed here chronologically, along with automatically generated entries under the Company News heading. If you've entered a company name (or the phone can guess it from the social networking accounts associated with this contact), the phone will search the web for new relevant content and give you a four line preview. A neat feature for sure.
The third tab is Activity, a list of phone calls and messages between you and the contact.
Just like in the Hub, you can swipe right to view a list of all services that provide contacts - your phone, the SIM card in it, BBM and BBM Video, Gmail, Twitter, you name it. You can use this to browse contacts coming from a specific service only or go into the settings to hide contacts from services you don't need.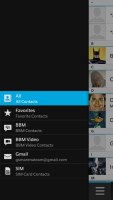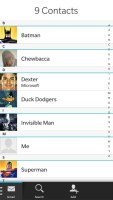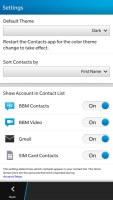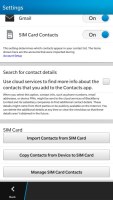 Filtering contacts • more filtering options • contact management
Yet another trick from Hub is the long press - this gives you an easy access to several options straight in the contact lists. It's especially quick if you do it as one gesture (press and hold on a contact then move your finger to the option and release).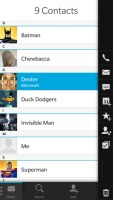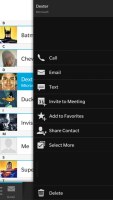 Long press options are available here too
The BlackBerry Z30 has a louder ringer than the Z10, which, combined with vibration, should see to you not missing any calls. It got a Good mark, which is a great result meaning missed calls will be a rarity.
| | | | | |
| --- | --- | --- | --- | --- |
| Speakerphone test | Voice, dB | Pink noise/ Music, dB | Ringing phone, dB | Overal score |
| Sony Xperia Z | 60.1 | 58.3 | 61.6 | Below Average |
| LG G2 | 65.7 | 62.2 | 66.2 | Below Average |
| Meizu MX3 | 67.1 | 66.5 | 77.7 | Good |
| BlackBerry Z30 | 74.2 | 66.2 | 75.7 | Good |
| Samsung Galaxy Note 3 | 70.5 | 66.6 | 78.0 | Good |
| HTC One | 69.3 | 66.6 | 75.9 | Good |
| HTC One mini | 68.0 | 68.7 | 78.1 | Good |
| Samsung I9505 Galaxy S4 | 70.6 | 66.2 | 77.3 | Good |
| Samsung Galaxy S4 Active | 72.7 | 66.6 | 78.1 | Good |
| LG Optimus G | 74.6 | 71.3 | 82.7 | Excellent |
You can find more on how we test loudspeaker performance here.
File Manager with Dropbox and Box integration
The File Manager is there for more advanced file browsing needs. It shows the internal and external storage as either a grid or list of files and folders. You can sort them by name, date, type and size in either ascending or descending order and if you still can't find what you need, there's the search feature.
BlackBerry OS 10 imposes a strict structure at the root level of the internal storage - folders are predefined and you can't change them. Inside those folders and on the external storage (microSD card), you're free to organize sub-folders as you like.
Files and folders can be moved, copied and deleted in bulk, renamed or even zipped up into a single file and then unzipped (sending multiple files is easier if they are in a single file).
To switch between the internal and external storage, you do the same swipe right gesture used to filter items in the Hub and Contacts apps.
The app is cloud-enabled too, you can add Box and Dropbox accounts. They are treated almost the same way as a microSD card, so copying files between phone and cloud storage is seamless. There's no search option here (but you can still sort folders).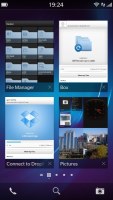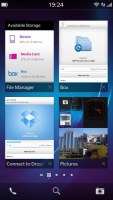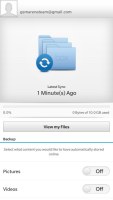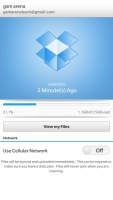 Dropbox and Box cloud storage services
Adding those cloud accounts is done through external apps (Box and Connect to Dropbox), which is a bit clunky. These apps show the time of the last sync, your storage usage and have a toggle to disable syncing over mobile data (great if you don't have a solid data plan). The Box app also has toggles to automatically upload photos and videos to the cloud.
One potential problem with this app is that it only supports one account from each service. To be fair, so do the official desktop clients for these services. Still, it's worth noting if you're one of the few people who keep multiple accounts.
When you switch away from the Manager, its active frame changes to show memory usage on the various storage locations, giving you handy at-a-glance info.