Bloomberg: Google-owned robotics firm Boston Dynamics is now up for sale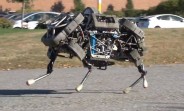 Over a couple of years after Google acquired it, robotics engineering firm Boston Dynamics has been put up for sale by the Mountain View, California-based company, according to a latest report from Bloomberg, which cites people familiar with the search giant's plans.
For those who are unaware, Boston Dynamics is known for its humanoid as well as terrifying animal-looking robots. The following video shows a robot named BigDog in action:
Bloomberg's sources say Google's move to put the unit up for sale is purely a business decision. "Executives at Google parent Alphabet Inc., absorbed with making sure all the various companies under its corporate umbrella have plans to generate real revenue, concluded that Boston Dynamics isnít likely to produce a marketable product in the next few years," the report says.
Although they do note that all was not well between Googleís engineers and Boston Dynamics executives. There was "a reluctance by Boston Dynamics executives to work with Googleís other robot engineers in California and Tokyo," the report says.
As for the possible buyers, the report mentions the names of Toyota and Amazon. The latter, in case you don't already know, makes robots for its fulfillment centers.
h
I'm willing to give $30 for big dog's schematics alone.
?
That's incredible marketing from Google: we are selling something that "isn't likely to produce a marketable product". Lol, what the ...?
D
Very aptly put. 100% agree with you.