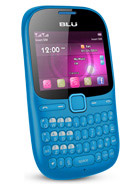 M
4* from 5* , easy to use, inexpensive, chock full of features (wifi, tv, fm, etc ). Unfortunately, no accessories or spare batteries on the market, that i can find.
D
750 mAh battery? With a wifi and browse the whole day, battery will deplete easily.
?
Phone is inexpensive, excellent way to avoid renewing contract, and you can pick up wifi without having to buy a data plan. Directions suck, but if you fiddle a bit you can figure it out.
D
The design looks cool and the qwerty, but the specs of 1.3Mp camera, and the 750 mAh battery is a no, no to me.
H
A good cell phone, for the price, well design, the battery life average , only 2 days, the best is the 3 mini sim card, is very usefull, this cell phone is very light, confort to carry on my pocket
Total of 10 user reviews and opinions for BLU Brooklyn.