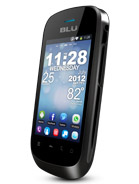 h
Jeff, 13 Feb 2016I need a user manual for the one I just bought.I just bought a blu phone an the internet don't work an the Wi-Fi don't work I can't get n to my play store
?
i jxt bought one but it always notify me that internal memory is full even though i have memory card inserted in it and now i can't turn it on
A
my navigation buttons dont work and parts of the screen stick. what to do?

i
what does safe mode mean and how can I remove it from my screen ?
?
at first the camera was working but now it's not working, what can i do to make it work? is there an application i can download?
t
Blu dash 3.2 is a very resistent phone, but its not so fast cause the ram is not enought. Its a cheap cell phone and its not famous such as others devices. The performance isn't good.
?
pcelsus, 20 Sep 2013It's a basic phone, but for that price is without question, the best. For basic tasks like mai... moreHow can I erase apps I dont want
I
I need to know with the B L U 3.0 how do you set the storage to the memory card and to get every thing you install or download like apps to go there without going to the phone internal memory and slowing down the hand set. you can email me a response at kenagard@yahoo.com Thanking you in advance.
Total of 12 user reviews and opinions for BLU Dash 3.2.