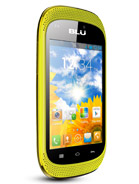 ?
OmenBoy, 03 Nov 2013Was weary of the low price and obscure manufacturer (BLU), but am so pleased with the phone. T... morei got the same phone i to was also weary on buying the phone due to the name and how cheap it was................i however am a little upset i got cheap headphones and am not pleased with the headphones.................at all
O
Was weary of the low price and obscure manufacturer (BLU), but am so pleased with the phone. The phone arrives in an Apple-esque glossy smooth box, complete with screen protector, black gummy case, and pretty decent Skullcandy-like earbud headphones. What most attracted me to the phone on the web was the gimmicky yellow chrome design, fast processor, and front facing camera -- which were unbelievable to me at a sub-$100 price. The phone's bold color design is not really cheap and gaudy as I expected the "in person" reveal to be, as there are only stock photos to be found online. The casing is smooth and pearly luminescent, and I feel proud of this handset as a piece of technology that mirrors my personality and style. The phone runs surprisingly fast and glitch-free for the price, and does not take a punch from graphic intensive themes, gaming, widgets, or playing media. The battery could shockingly be it's most boastful feature -- juicing two days easily of moderate to heavy use...and that's without airplane mode for conservation (turning cell radio off during sleep). Just a very surprising experience for a smartphone and tech lover, who decided to go with something cheaper for once, and was not disappointed. From the box to my first weeks with the phone, I can say this Android cell is at a functional and glamorous peak for it's $90 price tag, and I would not feel jipped if I had payed twice that. Excellent!
I
I downloaded Facebook for Android but it doesn't seem to work. It freezes the phone and I have to restart it. What can I do?
D
This is a nice entry level phone for anyone just starting to use smartphones, this is for a person 40 and over who didn't want to get a smartphone but finally did. Very user friendly, came with a nice box earphones and plays music very nicely. I recommend it for a new android user.
Total of 8 user reviews and opinions for BLU Dash Music.