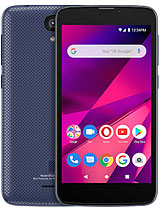 A
dot s, 31 Mar 2020What?!??! They're releasing phones with Mali-400MP2 GPUs in 2020? That can't even play 720p50 ... moreThe lack of 4G is a bigger issue IMO, if anything this phone at best is for someone who just use email, facebook and/or whatsapp at best and nothing else... =/
4
What?!??! They're releasing phones with Mali-400MP2 GPUs in 2020? That can't even play 720p50 or 60 YouTube videos without stuttering unbearibly to the point where it looks like a slideshow constantly? This must be a joke.
Granted, it is more of Google's fault for releasing that one update back in 2016 that rendered these GPUs incapable of smoothly playing back 50/60fps video, and for not adding an option to block high framerate video and instead use 30fps, still, this chipset isn't recommended for new designs.
Since they were conceived as a business I have been fond of Blu and their phones for their value, but this is a crime. There is no reason to pair a GPU that can't play 50fps YouTube with a 720p screen. If you're going to cheap out on the chipset you may as well go to a 480p screen while you're at it. This phone is going to be ripe for thelandfills.
Total of 3 user reviews and opinions for BLU Studio X9 HD.