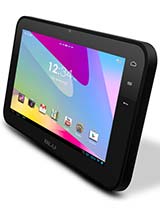 o
It is good tablet, and I need a help, by accident I entered into fastboot mode, any one could help me to take it out

D
Is there a case they make for this phone if not what one would work
s
mani panchal, 18 Jul 2013how i purchage it tell me.............online buy

s
it is the best tab mobile in world. because in low price you enjoy all facelity. i can buy this tab my friend
?
It appears the Touch Book line is now discontinued, as of 12/09/2013
D
I'm from Venezuela and I purchased this tablet a month ago, I can say this is a nice device, but the real specifications are differents:
RAM: 394MB no 512MB
Internal Storage: only 143MB!!!!
Cameras: nothing relevant, very poor quality. In good lighting does its job


The performance is decent, but not great. I installed some applications like Chrome, Aldiko (E-book reader), LinkedIn, Skydrive, etc and they all work without problems, is sometimes a delay and when there are many open applications occur forced closure of services and applications.

The 480x800 resolution screen at 7 inches (133 ppi) is necessary to use medium size text to distinguish the words. The version of Android (4.0.4) is cropped and has certain limitations such as the inability to select the type of network (3G only, 2G only or dual) leaving only the option only 2G and dual and also the small size of the desks that allows only 4x5 widgets. I have not updated any of the native applications to avoid ending the internal memory

The battery lasts 2 to 3 days because I give a moderate use, check news feeds, emails and one that other website.

A positive aspect is that it includes support to receive and make phone calls, send text messages, WhatsApp, what makes this "tablet" in a very large phone.

Broadly, the device is good, but I expected more.
D
The specs of this tablet looks good. Is just like the studio 5.3. I'm looking forward for this product to be available in my country. This would be a great difference in my country. can't wait.
n
is this chines made
if not specifications are good price will not much i hope
Total of 14 user reviews and opinions for BLU Touch Book 7.0 Plus.