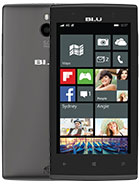 B
I am able to make calls and receive text messages but it won't let me respond to any text messages? It doesn't say sent. I have been on the phone with straight talk tech support for 2 hrs and still nothing.... Can someone please help me who has experience with the phone..
I
Hi,

About the video resolution of the phone I didn't verify before receiving WP 8.1 update 2, but It is 1080p.


M
AnonD-37797, 25 Apr 2015What's with the Dual Sim ish, almost all their windows phones are Dual Sim, Why?Because of reasons
Total of 45 user reviews and opinions for BLU Win JR LTE.