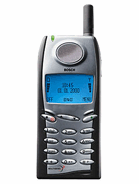 T
It's a good phone. The battery life is a bit more than 2 days (maybe because my SP isn't that good), but with the battery-save function enabled (display goes blank after 3 mins), I've pushed it up to almost 4 days! Furthermore, the keyboard makes a cracking sound, but the more I use it, the better it gets. And -of course- the phone looks great! But I do miss games and a vibra-function on it.
A tip for any technical user: Type
*#3262255*8378#
(This is "*#DANCALL*TEST#). You'll get a hidden 10th menu with technical data (software version etc.)

GreetZ,

-=[The Unholy]=-
C
I have a Bosch 909 dual s and I think its one of the nicest phones Ive had in a long time.
V
I really like this phone, especially the Blue LCD. It has good reception and battery life.

Does anyone know if you can transfer phone numbers from the SIM card to the phone memory in this phone? If there are indeed 100 phone locations available in the 909 S, I have not been able to locate anyone of them. I would love to be able to transfer numbers from my old SIM to the phone itself.
M
I've already had many handys, but this Bosch is the very best one. Is the greatest!
F
Hi,

I like to say that wether the performance and the looks of this
phone is just more that satisfying. It catched my eye
by its design than I am impress by its clearnce of
receiving signal through my poor network. And it is easy to use.

But by the way, does anyone have the user mannual of this phone.
If so please let me know by email yuenfrank@sina.com.hk

Cheers!
R
i think it is a great phone
but is there any place i can get ring tones for it

Total of 131 user reviews and opinions for Bosch 909 Dual S.