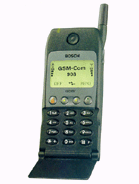 L
I need to buy a casing for my BOSCH (908). Where can I order???
Thanks.
h
Dear sir, i have bosch com908, i am very happy with this mobile. see but i dont know how many fasility from this model. no any booklet about this model. in this some body told me sms is group fasility but idont know how operate? some body told me inthis model watch and alarm both but i dont know? so if u have any fulldata about this model pl e mail me urgently. but this model is very good model. aand very light weight.
thanking you,
yours faithfully,
harish shah
Total of 26 user reviews and opinions for Bosch Com 908.