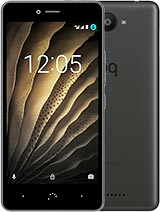 O
Not worth your money.
After 1 android update the phone slowes down.
- Google now/search is unusable.
- navigating through menus goes slow
- apps are slow
?
It doesn't run stock Android and despite its battery's decent autonomy it drains down pretty fast if you're a heavy full-commando user like someone I know who always uses it for twitter in half a day (literally) and he has to recharge it twice from early in the morning (6AM) till midnight.
?
RUHIT, 06 Jul 2018How the price of bq aquriaus u storage 10gb? It shouldn't cost more than 150€ (175$) as the newer model Aquarius U Plus is around 170€ (195$) in Spain. I suppose in other foreign countries are a little more expensive. I wouldn't pay more than 200$
?
Camera, audio, video (720p), apps, battery and wi-fi all good. It has LED notification and selfie/frontal camera. The only negative aspect I found was that battery is not removable. Dual SIM actually means: Phone card and SD card. Please note that both are NANO-size. You might replace your MICRO SIM if you still use one. It costs around 160-180€.


Total of 6 user reviews and opinions for BQ Aquaris U.