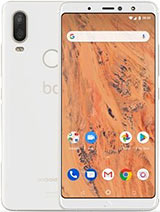 S
Good midclass phone, long lasting battery, fast security updates due to Android One. Currently running on Android 9 with security patch december 2019. Had a small problem with hanging phone under high load. This was resolved by factory reset. Now the phone runs smooth and fast again.
C
My experience with this device has not been great. People complain that my voice drops out intermittently during phone calls. I've been aware of this problem more or less since the moment I first got it almost a year ago. I sent it for repair but it also had a cracked screen by then. I was given an estimate for €170 to fix the screen plus €30 postage. I find this excessive but this is quite common behavior from manufacturers. I declined their repair offer and instead was sent by my still unfixed phone for a €30 handling fee. Everything else works fine apart from the cracked screen, and of course the fact that I can't really use it for telephone calls. If it was a less obscure brand, a phone repair shop in my country could fix it. Instead, I've ordered a new screen myself because they're dirt cheap and I'm still stuck with a phone that can't make phone calls. As for my experience with this device besides this negative experience, I've been happy with performance. It has a few issues connecting to public WiFi networks (the push notification to connect doesn't come). The camera is fine but you need to hold the camera very still for a few seconds until the image stabilizes. It has video out through USB so you can connect it to an external monitor. This has been quite rare in smartphones since about 2015, except some flagships, so this is a big plus. You can use the phone like a desktop computer this way. BQ first got my attention when they formed a partnership for Canonical. The Ubuntu phone failed, but I never forgot BQ. Sadly, my experience with BQ has not been great though.
?
Manuel Casanova, 14 Aug 2018Best Android One ever. I had Nokia 8 and had the feeling something was missing. I had Samsung ... morelmao....compairing flagships with low budget smart phones with flagships
M
Best Android One ever. I had Nokia 8 and had the feeling something was missing. I had Samsung S8 and Huawei p20 and thought that's it had too much unnecessary things. This one has the feeling and working of a top end phone with the simplicity of a clean Android. Totally worth the money. Congrats Bq
?
A year ago my wife lost her (old old old) phoneand she wanted to go cheap and small (a lady's small hands).I looked hard for a suitable new phone and stumbled upon the bq brand - for the first time ever. She got a Aquaris X5 Plus which is a great phone for her. And honestly, when my current phone dies, I will consider it to be an Aquaris phone, in special the X2 or X2 Pro.

Why? Next to buying stuff from a European company - which is nice but not neccessary - my wifes phone just does everything my LG G4 does, except the camera. Her's just works, smoothly, and I like the plastic design of the X2 as of the X5 plus very much. Also they promise updates and security patches, IIRC

To say it short: don't be afraid of the less known brand Aquaris. Their phones do more than fine! If you don't need flagship features from Samsung etc this might be the device of your choice.

BTW, searching for my wife I stumbled upon many less known brands like Wikio and there weren't many that I would trust to make phones worthy to compare to the X? Series, but that's very personal judgement.
N
vkhudenko, 27 Jun 2018I don't understand why this well-balanced device is not getting much attention.. I wish I coul... moreEasy to explain, iIts a small company that cant afford spending lots of money like the largest brands out there. But yes, they make very good phones, very balanced ones
v102
I don't understand why this well-balanced device is not getting much attention.. I wish I could watch some hands-on review of it, in English.
?
vs88, 21 Jun 2018Twentysix: Where did you find this? Is it for head or for body? ThanksIt is a quote from the website - should be near body, not near ear. Usually bq devices aren't that bad near ear and near body, some of them even earning the "blue angel"
k
Thesis86, 10 May 2018I hope this comes out as a global release. Android One, USB-C, aluminum and plastic, 3.5mm jack? YESIndeed. With NFC, reasonable size/chip/ram/battery, seems like a very decent midrange device.
Total of 13 user reviews and opinions for BQ Aquaris X2.