Europe's General Data Protection Regulation (GDPR) comes into effect tomorrow, on Friday, May 25.
Coming downstream over the last seven years, even if you've never heard of GDPR you will have undoubtedly felt the GDPR 'bow-wave' over the last month, with your rapidly filling inbox raising awareness of the coming prelude.
These emails, coming from every company you've shared your email address with, will have ranged from asking you to acknowledge new Privacy Policies to companies wanting you to opt-in to continue receiving marketing information from them.
Europeans will likely also get another wave of pop-ups starting tomorrow, asking them if they'd like to continue getting personalized advertising, so we've not even seen the end of it.
In less than 200 words, tell me what GDPR is
Firstly, GDPR affects every company that holds personal information about an individual - including users, customers, and even staff members, who reside within the European Union, whether that company is EU-based or not.
This new law is built on the principles of transparency and control. As an example, companies can no longer email individuals unless they've specifically opted-in to receive emails. Also companies have to explicitly state what personal information they are storing and why - hence all those Privacy Policy updates.
Furthermore, individuals will have greater rights when it comes to their Personal Data. They can request to access their personal information stored, and if they so desire they can also choose to suspend or freeze processing of their aforementioned personal information. Under the right circumstances, you can even request to have your account deleted. Those right circumstances will take into consideration that an individual has no further commitments to the company - those of you wanting to get your Credit Card accounts deleted will have no joy we're afraid if you have outstanding debt.
Enforcement
Regulators will now be better 'armed' to investigate and take action against companies that flout GDPR, with the maximum fine reaching €20 million or 4% of the company's global annual revenue for the previous financial year, whichever is higher.
What's changing at GSMArena as a result of GDPR?
Here at GSMArena, we continue to take your privacy and data protection very seriously.
We've updated our Privacy Policy and Cookies Policy to make them even more understandable and transparent
We're changing the way that you log in to your GSMArena account. We'll stop using your existing Facebook or Google accounts and we are migrating current account holders to our new Account Management System
We'll obtain your consent to store any personal data
Enhanced account management. Access your personal data and control how your personal data is processed
Updated Privacy Policy
Our revised Privacy Policy is even more understandable and transparent, to view our revised Privacy Policy click here.
Revised Account Management
If you have an existing GSMArena account, you had until the end of day on May 24 to complete your account migration. In complying with the new GDPR laws, all un-migrated accounts will be purged, resulting in any previous posts becoming anonymous and the loss of your nickname.
Available from Friday 25 May, your Account Settings will allow you to set you avatar via a Gravatar email address, change your nickname, access the limited personal data we hold, freeze your account and delete your account. Your password will be required for many of these actions.
To ensure we are GDPR-compliant on May 25 all avatars will be reset. You can restore it from your Account Settings page.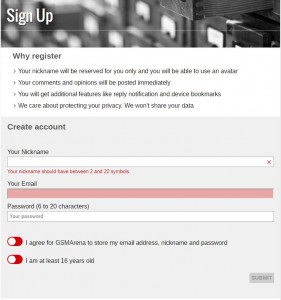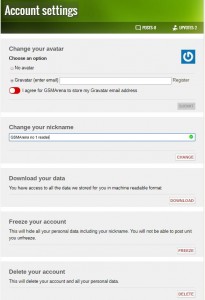 Registering for a GSMArena account • GSMArena Account Settings
And if you haven't registered an Account with us so far, now might be a good time to do it. It will let your comments make it to the site faster, let you edit them after they are published and mark phones as Favorites to have quicker access to them. You can register a new account here.
We will only ever use your personal data to improve your experience with us.
8
the more you pay, less you get. finding job whiteout mobile phone in eu is imposible. life is shit. becouse everybody thinks for themselves.
?
Website/online service providers should have thought about this when they were so busy all this time making money off people thru an unregulated industry called web advertising.