Update 2: T-Mobile's official customer service account on Twitter has also confirmed the issues, and suggests using third-party calling apps as a temporary solution.
Our engineers are working to resolve a widespread routing issue affecting voice & text. Customers may experience longer care wait times. Please try third-party calling apps (FaceTime, WhatsApp, Signal) as a temp solution.

— T-Mobile Help (@TMobileHelp) June 15, 2020
Update: T-Mobile's Neville Ray acknowledged the issue and confirms T-Mobile is working to resolve it.
Our engineers are working to resolve a voice and data issue that has been affecting customers around the country. We're sorry for the inconvenience and hope to have this fixed shortly.

— Neville (@NevilleRay) June 15, 2020
Original story follows below:
As of around 1 PM Eastern time, T-Mobile customers have been experiencing outages in many parts of the US, more prominently in Southeast United States. According to Down Detector, the most reported outages were coming from Miami, Orlando, Atlanta, Tampa, Charlotte, Houston, Jacksonville, and Brooklyn.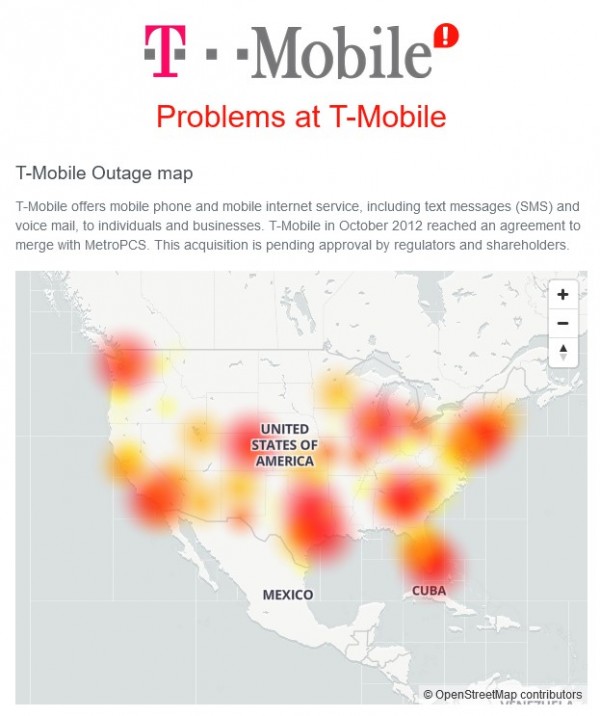 Source: Down Detector as of 3:25PM EST
As of 3:45PM EST, 58% of reports are "No Signal, 24% report "Phone" problems, and 17% report issues with "Mobile internet". Outage reports peaked at 3 PM EST with almost 114,000 outage reports collected.
As of 3:32 PM, comments are still trickling in, most reporting no signal on T-Mobile. Some users are reporting they are still able to make calls over Wi-Fi.
This is a developing story and we'll provide an update once T-Mobile announces a cause of the outage.
Verizon, Sprint, and AT&T users all seem to be experiencing outages at the same time that T-Mobile began, but T-Mobile sees a drastically higher number of reports.
S
Mine to takes longer to send plus my husband receives my messages but he can't reply it won't send. Only to my phone. We can figure it out.
?
My google search doesn't work since the outage but works on my laptop...
T
I was broke down on the side of the road and could not use my phone so I was in a bad situation and I feel we should get some refund or money knocked off our bill I am a caregiver and I couldn't even reach anyone for help thank God the mail carrier s...