Password manager and form auto-filling
Password managers save time by remembering the login information for you. It's filled in automatically and all you have to do is tap "Log in". Of course, you have to be careful with that – it won't reveal your password but anyone using your phone can log on to any site that the password manager remembers. Auto filling forms other than username and password fields saves a lot of taps if you have to fill in the same information more than once – it suggests things based on what you've typed so far, much like the address suggestion.
Internet Explorer Mobile, the WebOS Browser and Opera Mini forgo all sorts of form filling, while the rest have at least password management.
The champions here are the Android, Maemo and S60 browsers. The Safari and both Opera mobile implementation don't have that and since Opera still haven't included auto form-filling in their desktop browser you shouldn't expect it to happen any time soon.
Tabs and popup blocking
At any one moment, you may want to keep several pages opened at once. The "Open in new window" option complements this and is very handy when one page links to several others you want to see.
The popup blocker tries to block pop-ups from sites – most of these are just ads. You can allow sites to open pop-ups if they use it as a part of their interface.
Internet Explorer Mobile 6 is the biggest disappointed here with lack of tabs whatsoever. The S60 browser is close behind, because it can handle multiple pages at once but there's no option to open a new one yourself - a link has to be set to open in new window so it can open in a new tab in the first place. Not only is this solution not ideal, but it is almost useless the way we see it.
The Dolphin browser on the XPERIA X10 offers tabs that look just like the ones on a desktop browser, while the Maemo and the WebOS launch multiple instances of the browser instead of using tabs. This is fine until you have several other apps running and then simply "tabbing through" the open pages becomes cumbersome.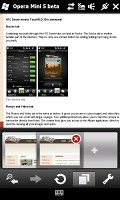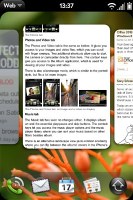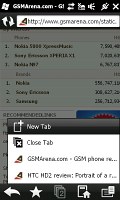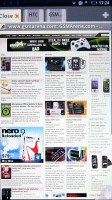 Different approaches to handling tabs
The rest of the browsers with multiple tab support rely on some sort of Pages view, which shows thumbnails of the open webpages, with a New Tab button, so they can be pronounced joint-winners in this respect.
Every browser with support for multiple tabs has popup blocking as well.
Text copying, searching
Other important usability feature is without a doubt the option to search for a specific bit of text on a page or to copy text from a page and paste it in another application – email, a note, etc.
One of the clear losers here is Internet Explorer Mobile 6, which has rather erratic text selection and can't search for text on the page (even Opera Mini does that). The copy paste functionality is actually there but it's virtually impossible to use.
The S60 browser also fails miserably on both the 5800 XpressMusic and the Omnia HD. It can't copy text, which may be excusable for Opera Mini but hardly so in a proper smartphone. At least, the find on page feature works fine to salvage some dignity.
By the way, the Opera Mini is another disappointment here for the lack of copy / paste functionality. At least it offers searching and highlighting of bits of text.
The WebOS Browser is quick at selecting paragraphs but that's all the accuracy you get – you can't select just one sentence. Find-on-page is missing but this is the lesser of two evils.
Mobile Safari came a bit late to the copy/paste party, but the implementation is very solid. Too bad Apple didn't see fit to include a text search function either.
MicroB and the Dolphin browsers are performing neatly in both find on page and copy paste.
The "Mark all" feature of the Opera Mobile and Android, which highlights all occurrences of the searched text is the decider here. It works just great for skipping through tons of texts for a specific term that has more than one occurrence.
The gold medal goes to Android just because it marks all the occurrences of a given string as you type it and scrolls up or down automatically, much like your desktop Mozilla browser would.
Downloads
When it comes to downloading files on the go there are several important aspects to be considered.
The option to save a webpage for offline viewing keeps it at hand even when an Internet connection is not available. Downloading behaviour should be different according to the different kinds of content – whether it's a picture for a wallpaper, a sound file for a ringtone or even an unsupported file format. A proper download manager keeps things organized, especially if there are several downloads running at once.
The page saving feature is rare enough – the two Opera Mobile versions, Internet Explorer Mobile 6 and the Maemo Browser are the only ones to have it.
Strange enough, IE Mobile can't save the currently displayed page. Instead, you have to go back and click on the link that led you to the desired page in order to save it. And that's not always possible.
Downloading pictures is something every one of the participants can do so we will call it a tie here. We have to mention though that no Android browser is able to display or download animated GIF images – we do find this puzzling.
As far as other file types are concerned, there is some sort of hierarchy. Opera Mini cannot handle anything but photos, while the Android browsers can only handle files that are compatible with the phone, i.e. ones that the phone can open.
All the browsers have a download manager, Internet Explorer 6 and the Safari being the only exceptions. However, unless you're a frequent downloader (not too likely on a mobile phone) and getting large files over email (unlikely either), you won't miss it too much.