Budget Galaxy S10 pictured with a case, flat screen design confirmed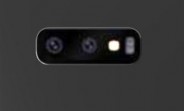 Samsung is doing a bold move by introducing a budget Galaxy S10 next year along with the regular premium versions and we've known for a while now that it's going to miss on the in-display fingerprint reader and will probably have a flat screen design to keep the cost low.
The latest renders of the device further confirm the theory and show the device with a side-mounted fingerprint scanner and a flat screen design. We haven't seen those on a flagship Galaxy smartphone since forever.
But while it skips a couple of cool features, the S10 Lite still rocks a dual-camera setup on the back. After all, the Galaxy A-series have been showing off triple and quad cameras so that doesn't really come as a surprise.
That is true, though it wouldn't be the price of the Note
?
Minor camera bumps are only a concern if you rock a naked phone. I don't know about you, but that is an exceptionally rare person where I'm from.
?
And the camera housing is sticking out. AGAIN. Besides; where is my home-button? Bloody useless