Today a lot of unannounced Nokia handsets leaked on a Flickr account. The images are not of best quality but still they are far better than the blurry snapshots we usually get with rumors like this. All the devices seem legit and not surprisingly the Flickr account of the owner of these images has already been deleted.
But let's not waste any more time and see today's catch. Few details are known and most are based on the images themselves.
Nokia N79
Nokia N78 has just started shipping and there's already a successor. The Nokia N79 is 3G-enabled and runs on the Symbian S60 UI as most of the other devices in this article. The design is rather unassuming but somehow looks a bit like the Nokia N82. Did you spot it's got a 5 megapixel camera on it?
Nokia N85
The Nokia N85 is again a Symbian smartphone. It has a 5 megapixel auto focus camera, Carl-Zeiss optics and features a dual-sliding form factor much like the Nokia N95.
The Nokia N85 is 3G-enabled too and follows the latest N-series design, which started with the Nokia N81 and which we are hardly digging. So we are guessing - Navi wheel, anyone?
Nokia 5800 XpressMedia (a.k.a. Nokia Tube)
The Nokia Tube is finally demystified. Called Nokia 5800 XpressMedia, this highly exciting full Touch UI handset is obviously spawning a lineup of its own. Armed with something that looks like a 3 megapixel camera with Carl Zeiss optics, the Nokia 5800 will obviously not be at the top of this series. A videocalls camera is also nowhere to be seen - no 3G?
We were so impressed with the Nokia Touch UI demos that we just can't wait to see it in person. And nope, you are not going to hear us say "iPhone 3G killer". Oops, there we said it.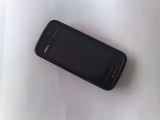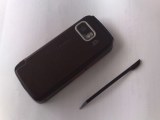 Nokia 5800 XpressMedia (a.k.a. Nokia Tube)
Nokia 6260
The last of today's crop is the Nokia 6260. A slider, yes, and a pretty one, we may add. Is it just us or it looks a lot like the Nokia 6220 classic?
One thing's for sure - the Nokia 6260 certainly got our attention with it 5 megapixel camera. But what's with that name - Nokia already have a handset dubbed as Nokia 6260?
K
N79 and 5800 are the best mobiles
x
why isnt there a clear button/key on the right? the key on the left looks like a symbian/menu access key, surely nokia havent made the 'end' call key serving dual purpose? into the 'c' key ? if so thats messed up dudes! or is the clear key some sort ...
J
"N00" is because that devices are prototypes and not finished. Per example "SE123" in Sony Ericsson prototypes
ADVERTISEMENTS