About a month back, a reddit user 'TweektheGeek' was woken up by the smell of his Galaxy S4 (not related to this recent incident), which overheated and started melting while the phone was charging overnight. In this case, the person was using original Samsung parts, including the battery and the charger.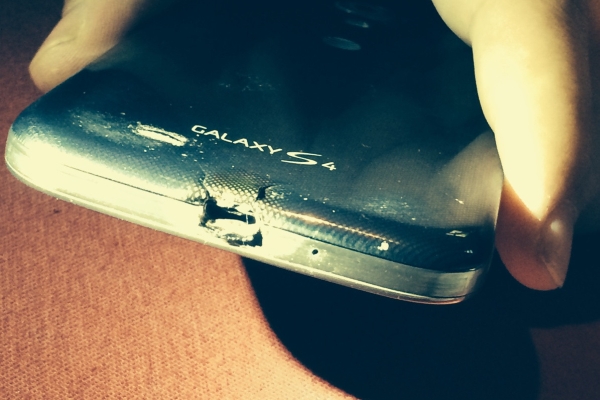 After contacting Samsung about it, the reddit user was promised a replacement phone and a box to send the damaged phone to the company. However, the user only received a box and never received his new phone despite several attempts to contact the company, which later started ignoring him.
As he was telling his story on reddit, an HTC Product Manager replied to his post and offered him a brand new HTC One M8 as a replacement for his old Galaxy S4 for no extra charge. The only thing he asked for in return is that if Samsung were to ship him his replacement phone some time in the future, the user should donate the replacement phone to charity or auction it off and donate the funds to a charitable organization.
This is an excellent gesture from HTC and it's not an uncommon thing for the company, which has in the past offered a free device as a gesture of goodwill to other people under various circumstances.
It's unlikely that Samsung will stay quiet after all this but unfortunately for them, they have already lost a customer, and probably a few others who may have read this story.
D
I almost forgot about my HTC droid sitting in the drawer with a worn ribbon from the slide out keypad that makes the touch screen go haywire. Supposedly, you can paint the ribbon with some black paint so it doesn't rub on the metal frame. That's so...
D
I currently have a ZTE, Samsung, HTC, and LG Android phones. My HTC Desire I yelled pull and blasted it with a 20 guage shotgun, which was very enjoyable after all the trouble I had with it. My EVO 3D is about to go the same way: Used it for about...
k
hi, I'm an s5 user but no fanboy. I dont know about your country,but in my country (Indonesia), Samsung service center is considered one of the best (alongside apple and LG),Sony's sucks (2 months repair time), HTC unknown (very rare btw). My br...
ADVERTISEMENTS