Cambridge Audio G2 is the British company's most compact wireless speaker available at the moment. The device is yet another ambitious entry in the market for premium portable speakers, currently dominated by the likes of Bose and Logitech's Ultimate Ears.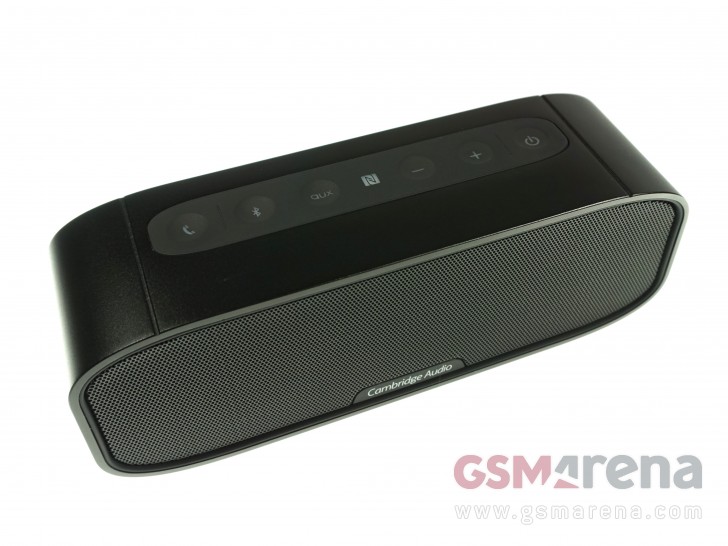 Founded in 1968, Cambridge Audio designs and develops premium audio products in the United Kingdom. Its products range from high-end speakers and home audio amplifiers and streamers, all the way to portable wireless solutions like the G2.
All about it…
Cambridge Audio G2 has a metal body that's available in a variety of colors, which include, black, titanium, red, blue, and gold. The gadget's physical measures are 189 x 67 x 55mm, so it is easy to carry around in a bad or even a large jacket pocket.





Cambridge Audio G2 in the flesh
Hardware-wise, the speaker packs two 50mm audio drivers and two bass radiators with the same size, as well as a built-in microphone for speakerphone functionality. The rechargeable Li-Ion battery of the G2 is rated at offering music streaming for up to 10 hours.
Connectivity options of the G2 include Bluetooth 4.0, NFC, and 3.5mm audio jack. A full USB port is also available, as the speaker can be used to recharge a mobile device if need be. Users can also pair two G2 speakers for a more immersive sound experience.
Using it…
Pairing the Cambridge Audio G2 is as easy as tapping the top of the speaker with an NFC-capable device. Users who don't have NFC-capable hardware can simply select the speaker from their device's Bluetooth settings, as it enters pairing mode when powered up.
The control buttons are laid out on top of the device. They include a pairing button, volume up/down, a button for phone calls, aux button for wired connection, and power on/off key.
The device's charging socket, USB port, 3.5mm audio jack, as well as its button for pairing with another G2 are located on its back.
Loving it…
The Cambridge Audio G2 looks great in the flesh. The wide array of available colors on the other hand, allow to have your speaker look any way you like - from slightly gaudy to pleasantly understated.
Build quality is impressive - the metal body of the G2 all but guarantees that the speaker will handle daily use without breaking a sweat. The overall tactility of the speaker is also superb thanks to the premium material used in its making.
Controls are well-laid out and easy to operate. The same goes for the additional features of the speaker such as its speakerphone functionality, as well as its ability to charge mobile devices.
The sound output is really impressive. Cambridge Audio G2 sounds like a much bigger speaker with rich and distortion-free sonic experience even at high volume.
Having the option to charge your smartphone from the speaker is pretty sweet, even though you are not going to necessarily use it. The same goes for the option to pair the G2 with another speaker for richer sound.
The speaker has an energy saving feature that turns it off if you don't use if for more than 30 minutes. It is a great battery saver, as I often forget such devices turned on.
Hating it…
The speaker's wireless charger is huge and has a proprietary connector. Cambridge Audio would have done a lot better with a microUSB solution for the task.
That 10-hour battery life is overly ambitious and likely achievable only at extremely low volume. In real life, you are more likely to get around 6 hours of playback from the G2.
For some reason, voice-only recordings such as podcasts and online videos don't sound great. The speaker's low range appears to eat into them a tad too aggressively.
Wrapping up…
Cambridge Audio G2 is a solid entry into-the ultra-compact premium speaker segment by the company. The gadget is currently priced a tad below $100 on Amazon, so it is a solid buy considering it feature set and performance. You will surely find better sounding options on the market, but they are bound to cost you a lot more than the G2.
?
Me too - sounds good and is nice and portable but now only works when plugged into the mains via it's custom big mains supply - so not portable anymore...
?
Very disappointed with speaker battery. Wouldn't charge after about 6 months of use. Sealed unit and battery can't be changed.
D
How does it compare against Bose SoundLink Mini in terms of sound quality?