It's been nearly a full year since the last Google Nexus phone was announced (though we witnessed the launch of the Nexus 7 tablet in the meantime). We've already seen some leaked specs of an update for the Galaxy Nexus but now we have photos uploaded to Picasa to back those up as well.
The EXIF info in the photos labels the device "GT-I9260" - the expected model number of the successor of the current Galaxy Nexus (I9250). Unfortunately, the photos were not shot at full resolution, so they can't confirm the upgrade to 8MP that the camera of the next Galaxy Nexus is rumored to receive.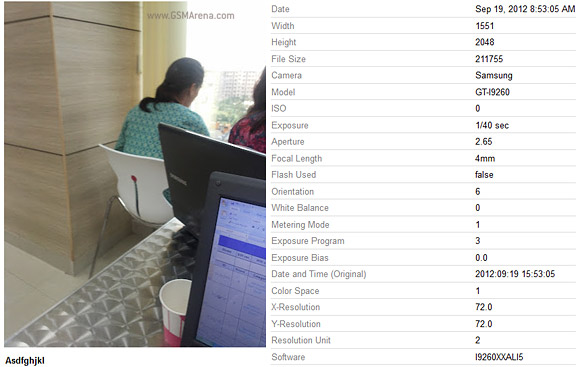 What the photos do reveal however, is a F/2.65 aperture and a 4mm focal length. The Galaxy S III has an aperture of F/2.6 and a focal length of 3.6mm, while the Galaxy S II has an aperture F/2.65 and a focal length of 3.97mm, so it might be theoretically possible that the new Nexus phone may have the same camera as the Galaxy SII.
The firmware versions listed in the EXIF info in the two photos is I9260XXALI5 and I9260XXALI6.
In one of the photos, there's a portion of an Excel window with a table listing Bluetooth specs for something, but there's nothing interesting that can be made out.
Besides the camera, the Samsung I9260 Galaxy Nexus "Premiere" is supposed to have a better CPU (Cortex-A9 dual-core at 1.5GHz instead of 1.2GHz), a microSD card slot and the same 4.65" Super AMOLED HD screen.
Would it be okay if the next Galaxy Nexus really isn't based on the Galaxy S III? The OS it will run is still not clear - typically, a Nexus device would come with the latest available iteration of Android, but Jelly Bean is still very fresh (barely powering a percent of all Androids), so it might be too early for Key Lime Pie.
D
Quad-core is an absolute blessing for multi-tasking. Even if NONE of the software support more than a single core, the OS will take care to put each of those apps on their own core and thus taking advantage of all four. The biggest reason for q...
?
the only thing it needed was a better gpu(really the PowerVR SGX540 is seriously outdated) and a slightly better cpu
A
Google needs to go back to basics, purity and revolutionary designs. Things Google needs to implement in their next Nexus line. 1- Keep the name simple, just use "Nexus" with a number, preferably "Nexus 2" this would follow ...
ADVERTISEMENTS