Canada, India, and Japan are also advising against using Galaxy Note7 in-flight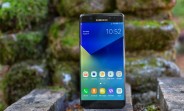 After the US FAA, regulators in several other countries - including India, Canada, and Japan - have issued advisories against using the Samsung Galaxy Note7 on board a plane. Following is an official communication from India's Directorate General of Civil Aviation.
India also bans Galaxy Note 7 mobile onboard any flights. #aviation pic.twitter.com/USTWjAo8xH

— Tarun Shukla (@shukla_tarun) September 9, 2016
Similarly, Transport Canada has also issued a statement on the matter. Following is what the agency said:
"Transport Canada is advising air operators, passengers and crew of this safety risk and recommends that Samsung Galaxy Note 7 devices be carried in the cabin, where an incident can be immediately mitigated, and not in checked baggage. Transport Canada also strongly recommends against using or charging these devices in the cabin of an aircraft."
A similar advisory has been issued by Japanese regulators as well. It's worth mentioning that the phone is yet to go on sale in India and Japan.
v
i have absolutely no idea..i just read some article some 5 years ago, saying that the IQ distribution of the world is a skewed..this is also why IQ is not currently, a good indicator for a person's abilities, i suppose..its only one of parts and not ...
A
And how do you calculate the IQ of a normal person by testing him what?
D
Malaysia Airline & also AirAsia