The 5G revolution in the world of smartphones is going at full speed, with China leading the pack both with network deployment and handset availability. According to Canalys, 278 million phones with 5G will be sold in 2020, with 62% of them, or 172 million, in the Greater China market.
Predictions for the market in 2021 sees almost doubling the amount of 5G phones around the world, with all key regions seeing a massive growth in total volume.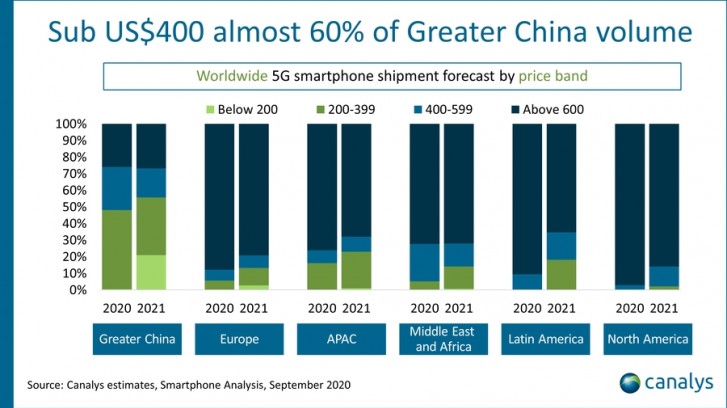 Realme V3 5G arrived on September 1, officially becoming the first 5G phone with a price under $150 (retail price in China is CNY999 which today translates to $146). According to Shengtao Jin, an analyst at Canalys, this milestone has arrived three months earlier than expected and will cause a significant ripple effect in other regions - Southeast Asia, EMEA, and even Latin America, where smartphone companies from China are expanding.
Makers will keep pushing 5G devices to these markets even if the next-gen network is not fully deployed. This will give them an edge over any eventual competition, especially when Samsung is the only major non-Chinese company launching 5G devices right now.
Region
2020 shipments
(in million)
2020 market share
2021 shipments
(in million)
2021 market share
Annual growth
Greater China
172
62%
305
56%
77%
North America
42
15%
92
17%
118%
Europe, Middle East & Africa
31
11%
76
14%
141%
Asia Pacific (excludes Greater China)
29
11%
57
11%
95%
Latin America
3
1%
13
2%
342%
Total
278
100%
544
100%
95%
Huawei is expected to play a major role in 5G smartphone adoption, despite the ongoing uncertainty around the company and its supply chain constraints. Even if it doesn't manage to deliver, the vacuum it creates will be easily filled by Xiaomi, Oppo, and TCL, commented Ben Stanton, senior analyst at Canalys.
Average sales price of 5G phones in Europe is expected to fall to $765 in 2021, and then steadily go down to $477 in 2024, mostly because Samsung and Apple are still key players in this market and they have more expensive portfolios than the competition.
M
When only 5 people can actually use it.
?
no 5G for me in 2 years, I tried to change operator I have had for 19 years but they called me back and offered 7€/month unlimited 4G 24 month plan if I stay lol
?
With the transition to 5G with super-high bandwidth, we will witness an explosive growth of 8K TV market in the coming years, provided that some major market(s) starts TV broadcast in 8K, which may happen very soon.
ADVERTISEMENTS