The Q2 smart wearables market across North America grew by 38% on a yearly basis according to the latest Canalys report. The data shows the total smartwatch sales reached $2 billion for the period.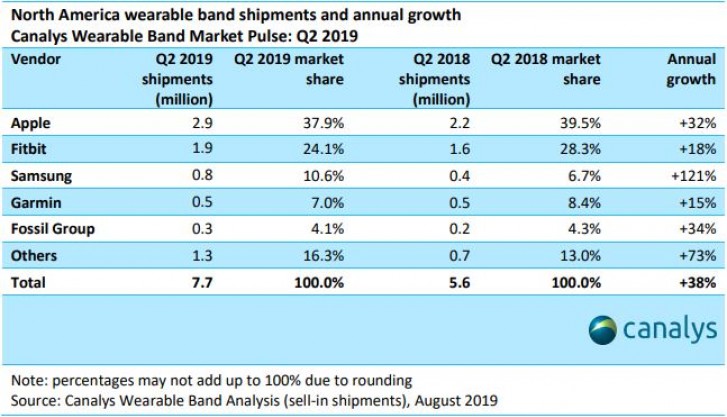 The leader of the pack is Apple, which saw 2.9 million shipments for the period and holds a 38% market share. Fitbit comes in second with 1.9 million units and a market share of just over 24%. Rounding off the top three ranking is Samsung which saw a massive 121% YoY growth helping it outpace Garmin as the third-largest player in the category with 0.8 million units sold and a 10.6% market share.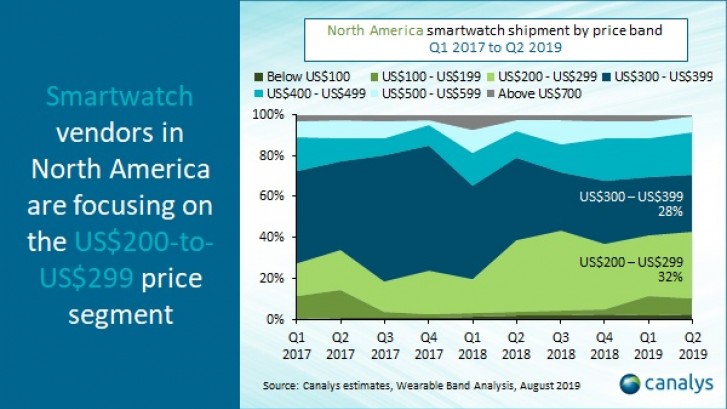 Samsung's efforts to diversify its portfolio seem to have paid off as the Galaxy Watch Active line delivered a robust package of features in a redefined design garnering high praise by consumers.
Fitbit, on the other hand missed out with its Versa Lite as it lacked in the features department compared to Samsung and Apple's offerings. Аs usual, Apple enjoyed a solid quarter as an estimated 60% of its global Watch shipments went to North America.
Smartwatch vendors are increasingly getting near the bullseye – hitting the right price point in a way that spurs massive demand. - Vincent Thielke (Canalys)
Looking at pricing, the sweet spot for smartwatches is the $200-299 category. In the features department, heart rate sensors and cellular connectivity are what consumers are looking for.
D
Yes smartwatches have taken off big time. Personally i own a Samsung and its great. But i think Apple have really done wonders with there watch series. But like with all Apple products over priced.
?
Smart watches definitely are getting way more popular in the US. Everytime i'm out in public, 9 times of 10 someone is wearing an Apple Watch. Fitbits are popular too, but most of their products aren't really considered "smart watches", more as "fitn...