Canalys: Chromebook and tablet sales soar as desktop PC sales drop in Q3
Without a doubt, 2020 has been a year when many had to adjust to a new normal. This new normal translated to kids getting Chromebooks and iPads so they could continue going to school, while adults needed machines that could keep them working from home.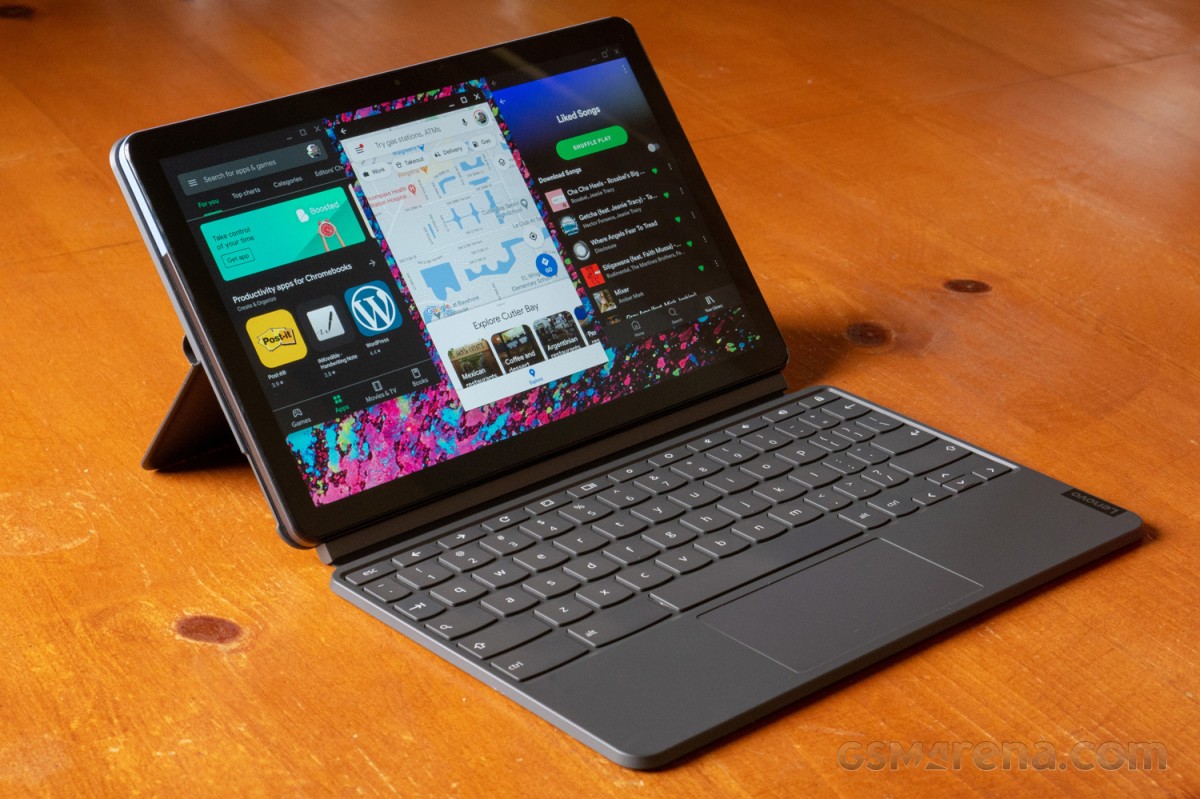 Lenovo Chromebook Duet
A new report from Canalys shows how much the PC market landscape has changed this year. Chromebooks saw the biggest growth in sales this year, selling an estimated 9.4 million units in Q3 with 122% growth compared to Q3 of 2019. Detachables, referring to notebooks with removable keyboards, also saw 88% growth in the market. Meanwhile, desktop computers saw a drop in sales YoY, with a -27% decline in desktop workstations and a -33% drop in towers/small desktops.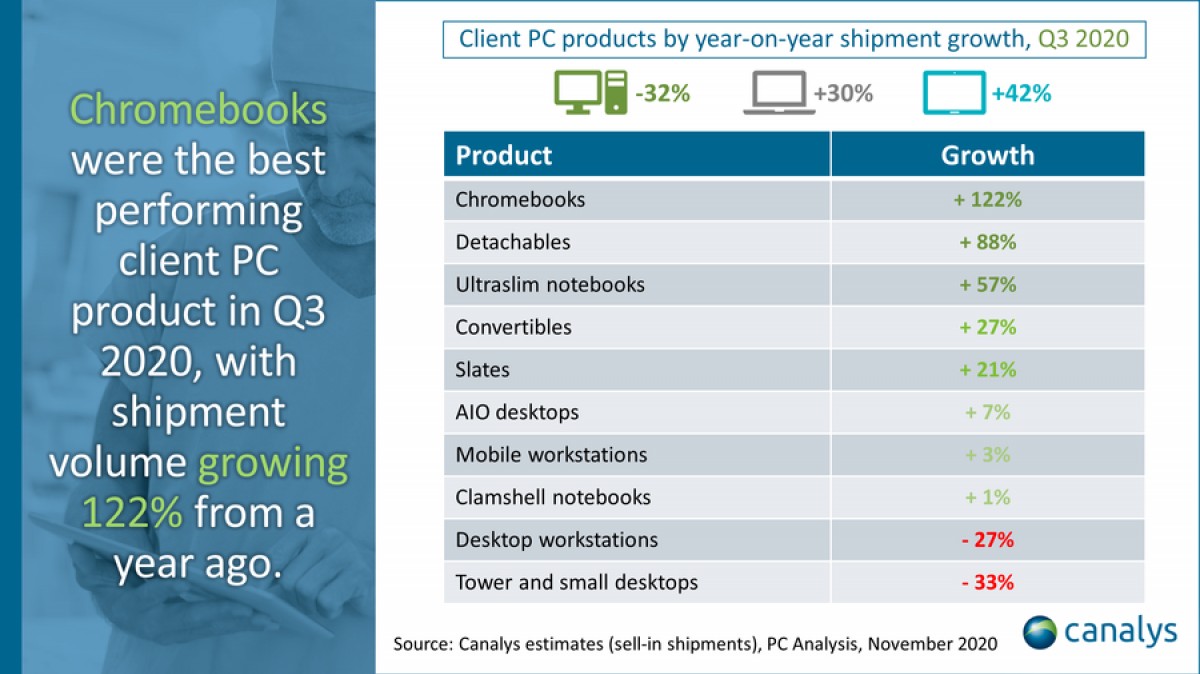 Chromebooks and detachables reflect the affordable segment of PCs and computers and companies like HP and Lenovo – who sold the most Chromebooks this quarter – have been ramping up production to satisfy demand – "which is expected to continue in the short-term", writes Canalys. In the following table, "Worldwide PC" shipments includes tablets, computers, laptops, Chromebooks, All-in-ones, and desktops.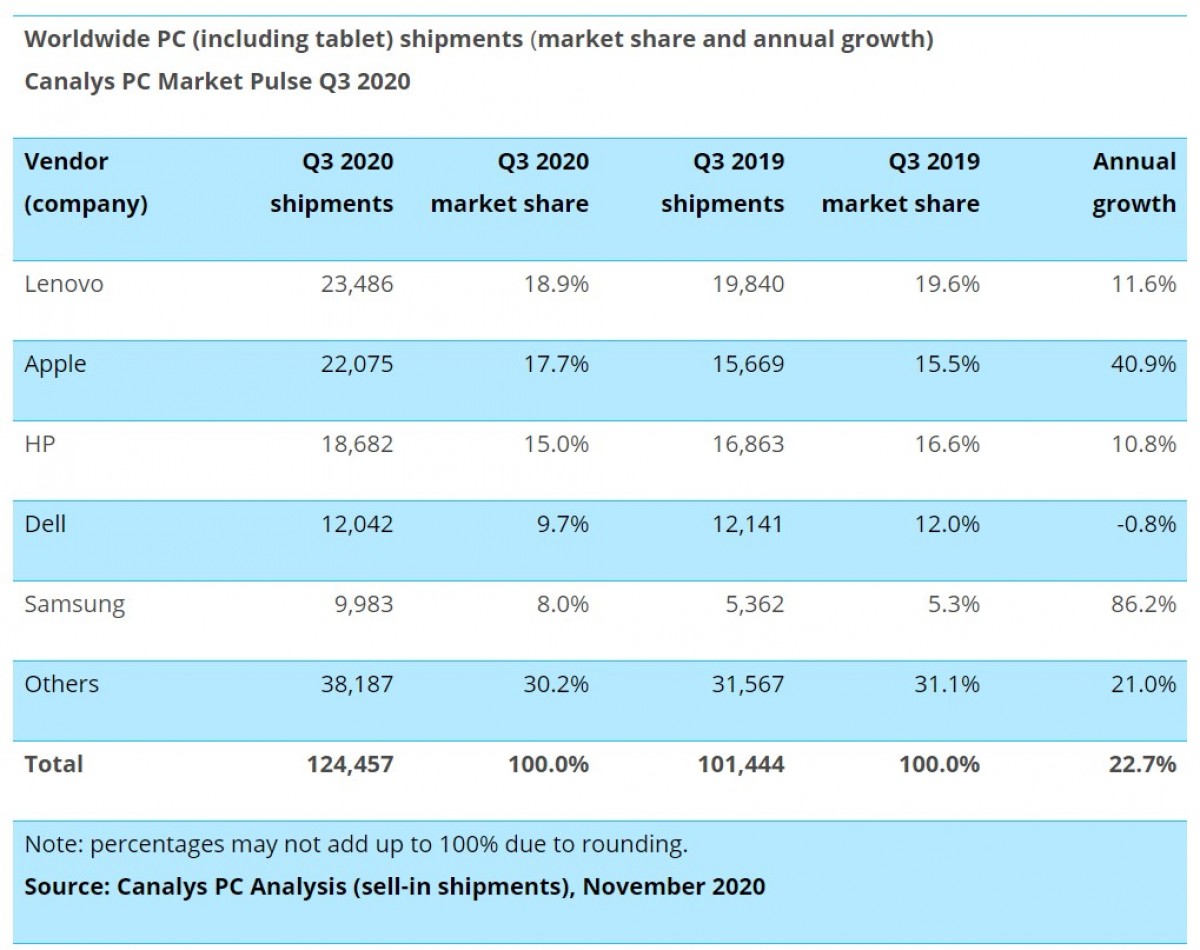 Lenovo has 18.9% of the market share with 23.4 millionunits, up 11.6% YoY. Apple weighs in at about 22 million shipments with 40.9% growth YoY. Samsung saw the steepest growth in this chart at about 10 million units shipped, but with 86% growth. The overall market grew by 27%, shipping 124.4 million mobile and stationary computing devices this quarter.
The next chart represents only tablets.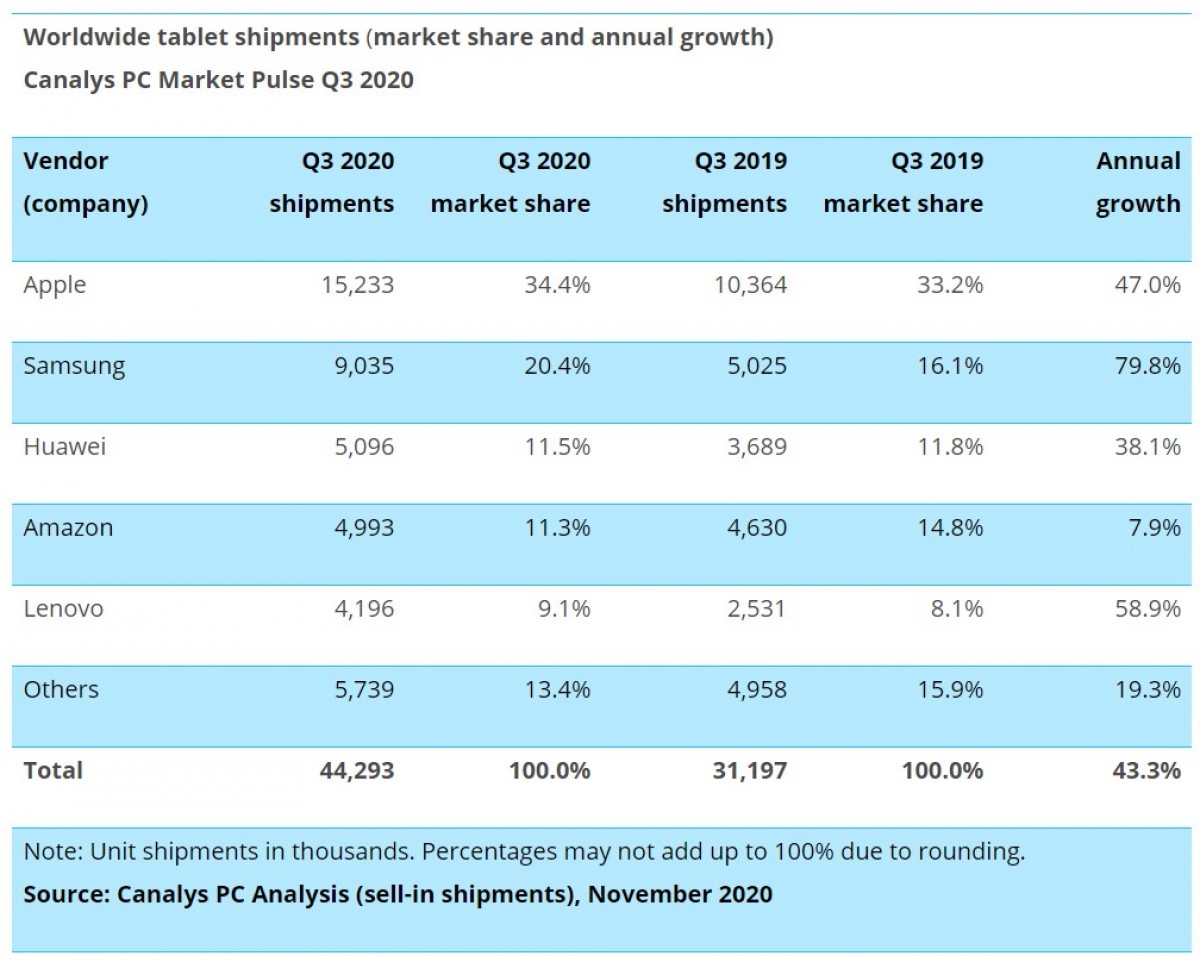 Apple, Samsung, and Huawei took the top three spots, respectively. Amazon and Lenovo placed fourth and fifth. Samsung sold about million tablets this quarter, but Apple sat higher at about 15.2 million units. Every one of the top 5 tablet sellers saw growth in Q3 YoY and the overall tablet market saw 43.3% growth with a total of about 44.3 million tablets shipped this quarter.
Chromebooks saw lots of growth as well, with HP selling the most (3.2 million units), Lenovo, however, saw the highest growth at 321.2%, shipping about 1.8 million units compared to just about 397,000 last year in the same quarter.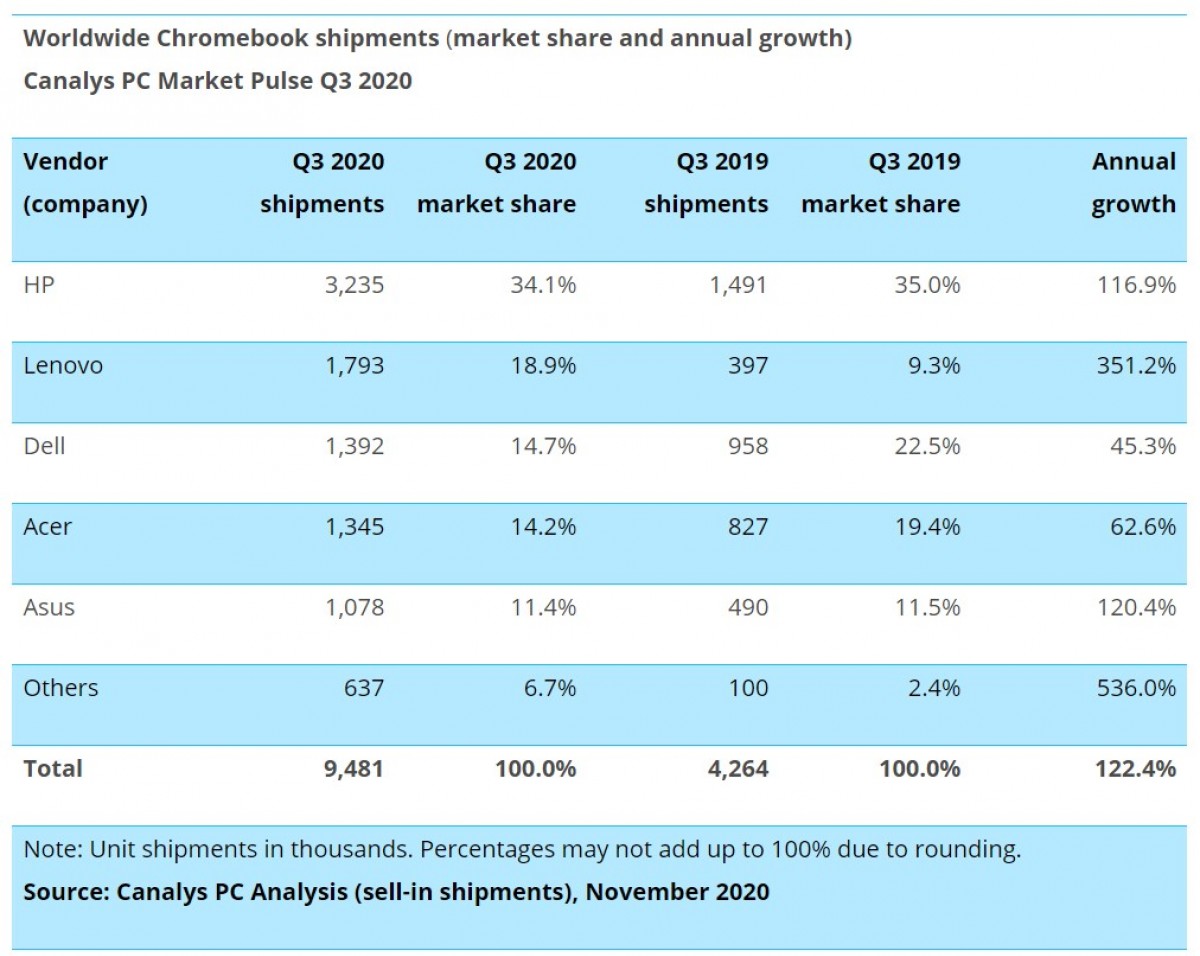 Every brand saw growth in Chromebook sales this quarter
Chromebooks emerged as the centerpiece of the education segment's digital respone to the COVID-19 pandemic. Uncertainty in how school terms will proceed remains at the forefront of educators' minds in the face of secondary lockdowns and protocols related to dealing with infections within a school's population. As a result, institutions turned to Chromebooks to deliver a relatively budget-friendly and easy to manage contingency to ensure minimal disruption over the course of the school year. Furthermore, Chromebooks have played an important part in satisfying consumers' and SMBs' needs to get their hands on a basic computing device. Although production and distribution ramped up, the huge surge in demand led to orders being unfulfilled, and Canalys expects high shipment volumes to continue into the start of 2021." Ishan Dutt, Canalys Analyst
C
The tab s7 plus was just recently released and this coincided with a surge in sales.
I definitely understand the rise of the tablet since it offers the on-the-go flexibility that a normal laptop doesn't have, but Chromebook? Really? At this point, I rather get myself a Windows tablet instead. Even the first-gen Surface Go with 8...
A
The best music player (Poweramp) isn't even available on App store. The best keyboard (SwiftKey) was 2-3 years late on iOS. The best Map application (Google maps) which comes default on Android is thousand times better than stock Apple maps....
ADVERTISEMENT