Canalys: iPhone 8 Plus is first Plus model to outsell the smaller iPhone
Ever since the introduction of the iPhone 6 Plus, the larger model was always outsold by its smaller counterpart. Numbers by analysts at Canalys reveal that for the first time ever, the Plus model won – the iPhone 8 Plus outsold the iPhone 8 in the third quarter of 2017.
Still, it was Apple's older models that were the top phones by shipments worldwide. The iPhone 7 took the top spot with 13 million units, followed by the iPhone 6s (nearly a tie with the Galaxy J2 Prime). Even the iPhone SE saw an uptick in demand.
The demand for the new models was lower than last year - the iPhone 8 and 8 Plus moved 11.8 million units in total, compared to 14 million for the 7 and 7 Plus in their first quarter. That said, the pricier Plus model shipped in higher numbers – 6.3 million vs. 5.4 million.
Canalys attributes the growth in iPhone 7 demand to the price cut it received after the 8 launched. Apple is currently offering more diversity than ever with five iPhone models in total, going back to 2015's iPhone 6s.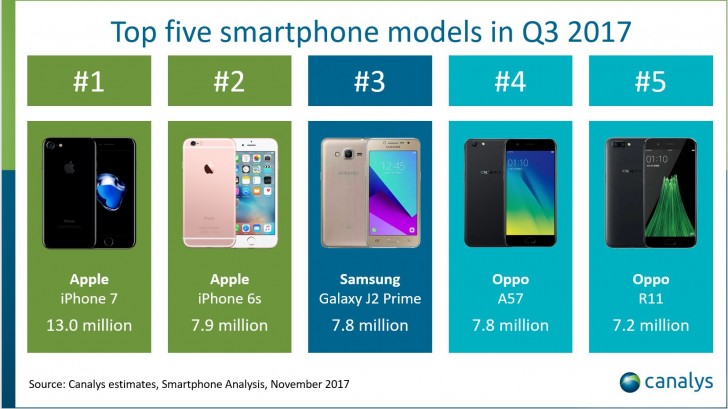 Samsung remains the top smartphone vendor worldwide and grew a healthy 8.2% with strong sales of the discounted Galaxy S8 duo and a strong performance of the affordable J-series in India and the Middle East.
As for the Galaxy Note8, it shipped 4.4 million units, which the analysts take as a sign that there's no lingering ill will towards the Note series after the Note7 fiasco.
However, they think that competition will get tougher now that many other brands have 18:9 bezel-less phones. The analysts predict that AI and AR (not VR) will be the next avenues of growth and Samsung is behind Apple and Huawei on those fronts.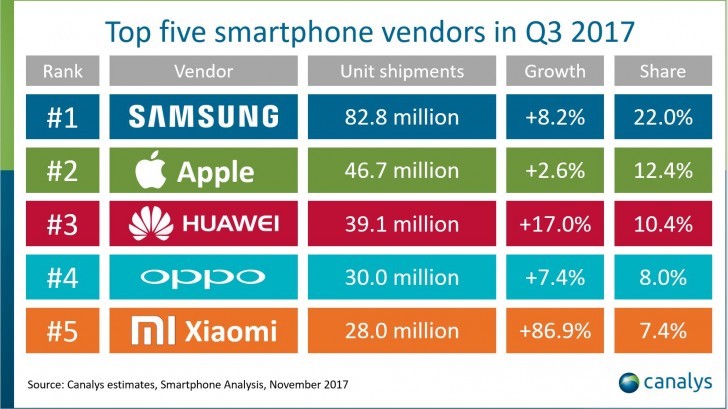 Finally, check out Xiaomi's 86.9% growth compared to the third quarter of 2016. The brand occupies 5th place globally and is closing in on Oppo, which had the #4 and #5 most popular phones.
?
Don't bring race into it. The iPhone 8 is an evolutionary improvement over the 7. The 8 comes with the very impressive A11 Bionic chip and improvements to the camera as well as the glass design, so it is a bigger change over the iPhone 7 than peopl...
D
They live up to their race.
K
The original iPhone 6 outsold the 6 Plus by a large fraction. However, the iPhone 6S-Plus AND the iPhone 7-Plus were much closer to parity. So while this means the iPhone 6S and iPhone 7 units did sell more units than their Plus siblings, it actu...